Discover Wraparound Comfort!
Product Announcement from Miller Fall Protection / Honeywell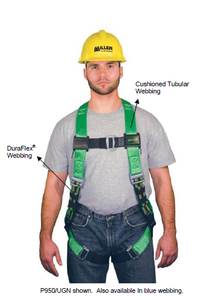 The DuraFlex Python Harness features wraparound comfort and is uniquely constructed with three types of performance webbing.
Cushioned tubular webbing shoulder straps
DuraFlex webbing torso straps
Non-stretch webbing leg straps
Comprehensive Safety at Height Solutions
As the Global Leader in Safety at Height Solutions, Honeywell partners with end-user customers to meet ever-changing demands for greater safety, increased comfort and improved productivity. For over 65 years, the Miller brand has been synonymous with providing Personal Fall Protection Products and Services for workers.
Full-body harness body wear
Connecting devices
Anchorage connectors
Ladder climbing systems
Confined space & rescue devices
Professional fall prevention & protection training
Engineered solutions
Continuing with our unwavering commitment to consistent quality products and services, we now offer Collective Safety at Height Systems designed to protect multiple workers at the same time.
The Miller Collective Systems concept incorporates a wide range of product solutions, technical support, research and development projects, component testing, training, installation and consultancy services. Through Miller Collective Systems, Honeywell can support the needs of a project at any stage, however, early involvement will permit the greatest solution flexibility, and will always produce improved results practically, commercially and safely.
Safety at Height Products
Falls from heights are one of the leading causes of serious injury and death at the work place. Analysis of all industrial accidents usually highlights inappropriate working conditions as a principal factor. In the case of working at heights, the consequences are immediate and serious, resulting in major disability or death. Approximately one in seven work place fatalities are due to a fall from heights
Miller Engineered Solutions
Miller is dedicated to the design and installation of custom-engineered fall protection systems. Our qualified, licensed and experienced personnel complete all work from design and engineering to final field commissioning, in accordance with federal and local codes and regulations.
Professional Fall Prevention & Protection Training
Providing the Awareness and Training Essential for Maintaining a Safe Work Environment
Training is an integral part of our Total Solution in fall protection, since no fall protection equipment – regardless of how effective – can save an employee who is not trained in its use. To meet this crucial requirement, Miller Training provides the knowledge and skills necessary to achieve a safer, more productive work environment.
---