ClearShield® UV Absorbers
Product Announcement from Milliken & Company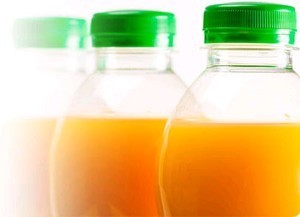 To meet the growing demand for safety and consistency in products packaged in polyethylene terephthalate (PET) containers, Milliken developed ClearShield®, an additive which blocks harmful ultra-violet (UV) rays up to 390 nm while maintaining the transparency of PET. A homogeneous, non-settling liquid polymer designed specifically for PET applications, ClearShield allows manufacturers to quickly and easily mold containers that keep UV-sensitive products safe.
Crystal-clear UV protection Ultra-violet rays can cause deterioration of almost any product over time, a consideration that has forced many PET bottle manufacturers to use less attractive opaque containers or even expand the product formulation to include UV stabilizers. Others simply limit the use of UV-sensitive ingredients.

ClearShield causes no blooming in PET, nor does it affect color. Moreover, due to the additive's high thermal stability, ClearShield does not display any plate-out during injection molding or blow molding of PET bottles. This allows ClearShield to be one of the very few UV absorbers used directly in PET plants.

ClearShield's combination of high transparency, high thermal stability and broad UV blockage (up to 390 nm) allows packaging designers and formulators alike the flexibility they need to make attractive, safe, quality products. Shelf life is greatly extended, and the customer experience is made consistent.

Applications
ClearShield is used in a variety of applications where the product formulation is sensitive to UV rays. ClearShield is seen in beverage applications-like fruit juice and dairy packaging-to protect vitamins from UV degradation. Our additive also benefits detergent and personal care products, protecting colors from UV exposure and keeping branding intact. Aroma applications are another example, where UV protection is essential to avoid the formation of undesired by products which have an effect on flavor consistency in the formulation.
To learn more about ClearShield visit our product offering, benefits, and support pages or contact us today.
---