Automate your production processes
Featured Product from Minebea Intec GmbH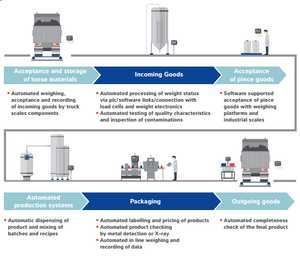 Labour shortages, demands for consistency and meeting food safety standards are just some of the issues but other drivers are coming into effect. The desire to reduce packaging, waste and be more environmentally friendly are increasingly at the forefront of customers' minds so it is important to provide them with the solutions they need.
Peter Walker, Country Manager for the UK and Ireland said "Normally the overwhelming justification (for companies buying automated machinery) is product saving, but we've really noticed a switch now to labour saving - and not just labour saving but automating a process because there is no labour available to them". By automating more of the production process, the need for staff diminishes allowing long and consistent runs of product. It also reduces the requirement to train and maintain staff's skills and absence is no longer a worry or concern for management. Consistency has been proven to greatly improve because everything is being checked and everything's being done in a consistent way time and time again. Peter continued "One of the biggest buying motivators for customers is because staff costs are rising – and that's when you can get the staff. And, of course, what people realise is that as they automate, they generally manage to pack much better and in such a way that they don't give away so much product. That will result in savings. Additionally, there's currently a two-year government incentive to buy equipment that is very tax-efficient for people investing in automation."
Identifying where automation is key
The wide range of products within the Minebea Intec portfolio enables customers to easily identify products that can facilitate their manufacturing and where automation is key...
Read more on https://www.minebea-intec.com