Simultaneously Heat and Cool with One System
Product Announcement from Mitsubishi Electric Cooling & Heating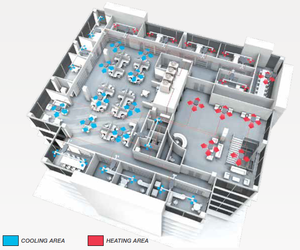 Two-pipe Zoning System that Simultaneously Cools and Heats... It allows building owners to provide each individual space with its own personalized, zoned comfort system... and realize energy savings in the process.
Developed for commercial use, Variable Refrigerant Flow Zoning (VRF) operation of the CITY MULTI R2-Series offers the ultimate in ductless or ducted comfort control systems. CITY MULTI is the first two-pipe simultaneous cooling and heating system available in the United States. Yet our technology has a long, proven track record of quality and reliability around the world.
Zoning advantage
The best way to ensure total comfort for the occupants of offices, schools, hospitals, assisted-living facilities, hotels, and more is to provide each individual zone with a personalized comfort system. Zoning offers maximum individual comfort and energy savings because only the zones that need air conditioning receive it.
Each zone of the CITY MULTI System has its own indoor unit or group of indoor units that precisely control the indoor temperature while operating at the most optimum energy usage.
Our advanced CITY MULTI Variable Refrigerant Flow (VRF) zoning system takes advantage of INVERTER-driven compressor technology, which varies the frequency of the compressor to meet system-wide capacity requirements. With our VRFZ technology, refrigerant is distributed systematically to individual zones at the precise levels needed to match each zone's specific capacity needs.
The CITY MULTI R2-Series provides simultaneous cooling and heating over two-pipes, which allows for the sharing of heat energy from one zone to another. The end result is a system that provides the desired comfort control in each and every zone of a building, and at the minimum energy level required
Easy to install, easier to operate.... and lower operating costs
Use the links on the left to learn more or e mail your inquiries
---