Lossnay Energy Recovery Ventilators
Product Announcement from Mitsubishi Electric Cooling & Heating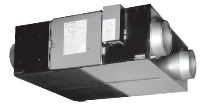 Mitsubishi Electric has responded to the growing need for total, integrated management of building HVAC and indoor air quality by making it easier to interlock and control Lossnay® energy recovery ventilators with their air-conditioning systems.

Improved sound attenuation makes Lossnay units quiet enough for places where silence is a must such as meeting rooms and libraries.

A free-cooling function is standard to help reduce costs and boost efficiency. The integrated bypass damper design makes installation and system management quick and efficient.

Lossnay nergy Recovery Ventilators
Maintain an adequate supply of outside ventilation air while reducing energy costs.
Reduce extremes in humidity that can encourage mold growth.
Remove dangerous gases, bacteria, and other airborne impurities from conditioned spaces.
Full enthalpy heat exchange with minimal moving parts in the heat recovery process: No wheels to stop turning so outside air is always preconditioned and available.
Temperature energy recovery efficiencies up to 75% heating.
Enthalpy recovery efficiencies as high as 69% heating and 53% cooling.
Improved sound attenuation makes Lossnay® units quiet enough for places where silence is a must, such as meeting rooms and libraries.
Available with up to .50" external static pressure.
Can be integrated into CITY MULTI Controls Network.
---