MEHVAC Employs Honeywell's RedLINK Technology
Product Announcement from Mitsubishi Electric Cooling & Heating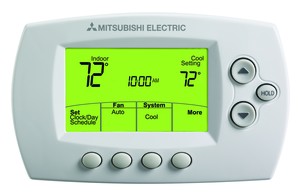 With RedLINK technology, a wall-mounted wireless remote controller (pictured above left) communicates through radio frequency, meaning that the wireless controller(s) can be placed in a different room than the indoor units and that no wires need to be run through the walls. The wall-mounted controller(s) will look almost identical to traditional wall-mounted thermostats to which customers in the U.S. market are accustomed, with easy-to-read backlit displays and intuitive operational functions.
For added convenience and comfort, the Portable Central Controller (PCC) allows users the freedom of climate control of up to 16 zones from anywhere in the home such as the bedroom, den or wherever they happen to be. Homeowners can save even more on utility bills without sacrificing in comfort - as they can heat or cool only the rooms in the home used every day.
"The collaboration with Mitsubishi Electric will make an immediate impact on our industry; improve the interaction between contractors and their customers; and ultimately increase the overall satisfaction of home and building owners," says John Tyhacz, vice president and general manager for Honeywell's Home Comfort and Energy Systems business.
The control system will also operate all of the sophisticated control functions traditionally available in Mitsubishi Electric cooling and heating systems, including complete zone control, adjustable fan speed, vane positioning and more.
Systems can be controlled by a smart phone device or tablet through the Honeywell Gateway.
---