Solving Commercial Building HVAC Challenges
Product Announcement from Mitsubishi Electric Cooling & Heating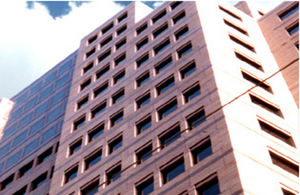 No matter what your cooling and heating needs may be, Mitsubishi Electric VRF systems are the perfect way to transform your workplace into a tranquil and productive environment. For decades VRF heat pump systems have been the primary solution for cooling and heating light commercial and industrial buildings around the world.
In light industrial applications, the needs of the office and warehousing or manufacturing portions of a building are quite different. The air in the warehouse or manufacturing areas is functionally conditioned to avoid hot or cold extremes, while the office portion of the building is conditioned for comfort. With these differing needs, multiple HVAC systems are generally required.
Mitsubishi Electric VRF solutions provide the perfect solution for conditioning the air in office portions on light industrial applications. With powerful and efficient, yet flexible, solutions that help you meet a wide range of cooling and heating needs, you have many options to design the best solution for your building's unique situation.
Whether you are building from the ground up or renovating an existing building, Mitsubishi Electric provides you with the solutions that effectively and efficiently perfect the comfort of indoor environments.
HVAC Simplified
Mitsubishi Electric Cooling & Heating systems have been designed to simplify everything from design to installation, integration, management and maintenance. Learn more
Efficient Systems that Reduce Costs
With an innovative INVERTER compressor and expansion-valve technology, Mitsubishi Electric Cooling & Heating systems consistently perform at 25% higher efficiency than traditional systems.
Quiet Environments
Your offices require a much more quiet environment than your warehouse or manufacturing facility. Mitsubishi Electric Cooling & Heating systems have been thoughtfully designed to minimize sound. Learn more
Building Integration and Controls
Our CITY MULTI line is designed to seamlessly integrate with other building controls via LonWorks or BACnet® for collective control of all building systems. Learn more
---