2033G Uninterruptible Power Supply
Product Announcement from Mitsubishi Electric Power Products, Inc.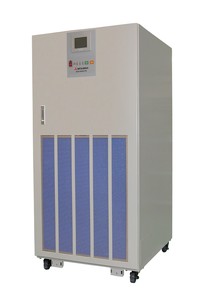 Mitsubishi Electric, a leading manufacturer of Uninterruptible Power Supplies (UPS) and
systems, has been providing patented UPS technology to the world's markets for more than
four decades. During that time, Mitsubishi UPS have continually set benchmarks for quality,
reliability and performance. The Series 2033G UPS is engineered to carry on the Mitsubishi
standard of excellence by offering the following features and benefits:
INTELLIGENT PERFORMANCE/
PRECISION CONTROL
Use of customized IGBTs results in untra-high
performance for the Series 2033G UPS. It is
designed to protect critical loads in a variety
of environments. Its light weight and small
footprint make the Series 2033G UPS the ideal
choice when specifying product in 30 and
50kVA power ranges.
EXTENDED BATTERY LIFE
Power draw from batteries during step load
conditions is no longer required with the IGBT
in both the converter and the inverter. Other
UPS systems required assistance from batteries
when the converter was unable to supply the
required current. This cycling of batteries
causes shorter life. Mitsubishi Electric
IGBTs incorporate the latest technologies
and provide step load applications (0-100%)
without the use of batteries, thus ensuring
maximum battery service life (i.e., lower
lifetime cost of UPS system).
QUIET OPERATION
> 30kVA–60dB (A Scale, 1m)
> 50kVA–63dB (A Scale, 1m)
SUPERIOR FUNCTIONS
> Front Access Only
> Automatic Restart after Low Battery
Inverter Stop
> Automatic Retransfer
> Converter Walk-in Function
> "Form A" Dry Contacts
> High Tolerance for Overload/Overcurrent
> Battery Current Limit
> Battery Self-test
INPUT POWER FACTOR
> 0.98
2033G
>2033GUPS
Available in 30kVA and
50kVA, the 2033G delivers
the reliable power and
protection Mitsubishi
customers have come to
expect. Its transformerless
design and excellent
performance characteristics
differentiates the 2033G
Series UPS from others
in the industry.
RELIABILITY
UPS
Uninterruptible Power Supplies
---