3-Phase, On-Line Double Conversion Topology UPS
Product Announcement from Mitsubishi Electric Power Products, Inc.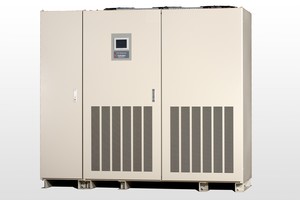 Mitsubishi Electric expands its high efficiency 9900 Series UPS product line with the addition of a 9900B 750kVA/750kW - UPS. The 750kVA model features a patented inverter design that produces the most efficient true on-line double conversion UPS in the industry at all load levels. In addition to low operation costs, 9900 Series UPS users receive legendary reliability and quality that they are accustomed to when specifying Mitsubishi
Design:
3-Phase, On-Line Double Conversion Topology
Power Rating:
750 kVA/750 kW
Voltage Input:
480V; Output: 480V
Design Features:
Fully Digital, CSTBT IGBT Converter and Inverter
Low Input THD with NO Leading Power Factor
Parallel up to 8 Modules
Small Footprint and Light Weight
3 Year Warranty!
Advanced Circuit Topology and PWM
Up to 96.5% True On-Line Efficiency
---