Efficient True On-Line Double Conversion UPS
Product Announcement from Mitsubishi Electric Power Products, Inc.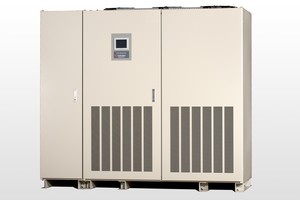 At Mitsubishi Electric Power Products, Inc., we understand that in today's high-speed, digital
world, critical load downtime can cost your company millions of dollars. That is why we have
developed the 9900B UPS - the most innovative and efficient true on-line, double conversion UPS
EXCEPTIONAL EFFICIENCY
The 9900B Series UPS, with a very flat efficiency curve, delivers efficiency ratings of 96.3% at 100% load, 96.5 at 50 - 75% loads, and 95% at 25% load. Even at 10%, load efficiency ratings of 93% are seen. This system efficiency substantially reduces operating and cooling costs by several thousands of dollars annually. The result, reduced cost of ownership and improved power usage effectiveness (PUE) compared to conventional UPS.
RELIABILITY AND ADAPTABILITY
No organization in the UPS industry offers the in-depth experience and unparalleled quality of Mitsubishi Electric. Mitsubishi manufactures most of the components that make up its UPS, rather than sourcing the components elsewhere and merely assembling the product. In that way, Mitsubishi has better control over the quality of the product, hence its reliability when installed at your site. In fact, Mitsubishi is one of the largest manufacturers of IGBTs in the world!
The 9900B UPS can be utilized in Singlemodule (SMS) or an Multi-module (MMS) configurations. This allows for a modular system architecture, offering a highly reliable and flexible approach. If loads on an MMS decrease, a module or modules can be removed and used elsewhere in a single module application.
Likewise, an existing SMS can be paralleled for capacity or redundancy at a later date.
SCALABILITY
The small footprint and lightweight design of the 9900B Series takes up less room and saves on precious datacenter floor space. With a modular system architecture, this not only saves on floor space, it offers the extraordinary option of adding or removing modules with minimal cost.
OPEN ARCHITECTURE
The 9900B Series UPS provides for a variety of communication methods with features that make the product inherently easy to use and maintain.
SUPERIOR PERFORMANCE
Mitsubishi pioneered the use of the IGBT in the inverter and converter sections of the UPS. Many UPS systems on the market today have followed suit. It is not enough to merely provide IGBT technology. How the IGBT is controlled is the key. Mitsubishi has incorporated its Digital Signal Processor and Direct Digital Control (DDC) to gain the full benefits of the most advanced generation IGBT that is utilized in the 9900B Series UPS. The combination means superior performance characteristics under all load conditions.
---