Energy Saving UPS for Large Data Centers 3 Phase
Product Announcement from Mitsubishi Electric Power Products, Inc.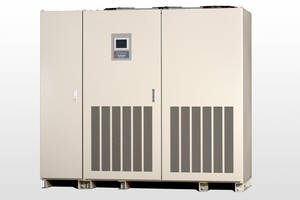 Mitsubishi Electric Power Products UPS Introduces New Product
750kVA UPS Maximizes Reliability and Efficiency
Warrendale, Penn. î º August 25, 2009 î º Mitsubishi Electric Power Products, Inc., a leader in Uninterruptible Power Supply (UPS) products and services, is introducing its newest product offering, the 9900B Series UPS System. With a power rating of 750kVA, the 9900B will deliver one of the industry's most efficient, on-line UPS products in the market to date.

The 9900B, designed with superior quality and reliability, offers energy-conscious managers of large data centers and mission critical facilities maximum efficiency greater than 96 percent and a 30 percent smaller footprint than typical UPS modules with a similar power rating.
To achieve increased capacity or redundancy, the 750kVA UPS module can be configured in a parallel system of up to eight (8) units using Mitsubishi unique parallel technology in a flexible and cost effective manner. This advanced technology provides the highest possible system reliability eliminating any single points of failure associated with other types of UPS systems.
As with each Mitsubishi UPS system, the 9900B is designed with serviceability in mind. The 750kVA systems are fully supported by Mitsubishi UPS Services team, which is renowned for its world-class, 7 x 24 preventive and corrective services, training, and application expertise.
Mitsubishi will display its new 750kVA product at its upcoming International Sales Meeting in Charlotte, North Carolina, and at the 7x24 Exchange 2009 Fall Conference in Phoenix.
About Mitsubishi Electric Power Products, Inc
Headquartered in Warrendale, Penn, Mitsubishi Electric Power Products, Inc. is the US subsidiary of Mitsubishi Electric Corporation, responsible for serving the North American power systems, metals production, rail transportation and water treatment industries with electrical and electronic products, systems, and services. In addition, Mitsubishi Electric Power Products' US-manufactured goods are exported to many customers around the world.
As a comprehensive business partner, Mitsubishi Electric Power Products offers application assistance, engineering studies and analysis, and after-sales services. As part of a leading global company, Mitsubishi Electric Power Products ensures the very latest technologies, products and systems with the highest quality and reliability, delivery and installation to meet customer requirements.
Information on Mitsubishi Electric Power Products complete line of products and services can be found at www.meppi.com. Within Mitsubishi Electric Power Products is the Diamond Visionâ"¢ division, which markets large-scale video displays for stadiums and arenas. Visit www.diamond-vision.com.
---