New Modular UPS Unit: DiamondPlus 1100™
Product Announcement from Mitsubishi Electric Power Products, Inc.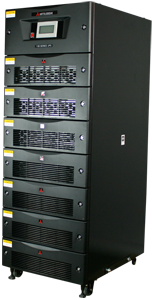 Mitsubishi Electric Power Products, Inc. has introduced its DiamondPlus 1100™ modular, three-phase Uninterruptible Power Supply (UPS) unit. With efficiencies up to 93.4 percent, a high 0.9 output power factor and lightweight, compact design, the DiamondPlus 1100 is both green and smart. Upgradeable in 10kVA increments up to 50 kVA, the DiamondPlus 1100 can be arranged in an N+1 configuration, increasing the system's availability and reliability.
With the addition of the DiamondPlus 1100, Mitsubishi Electric now offers a broad spectrum of high-efficiency, on-line double conversion UPS systems from 10 kVA to 750kVA. Mitsubishi Electric's UPS systems are ideally suited for mission-critical applications where a loss of power is not an option.
"The DiamondPlus 1100 complements our 80 kVA - 750 kVA 9900 series, and gives energy-conscious users another UPS solution to meet their needs," said Dean Datre, general manager, Mitsubishi Electric Power Products' UPS division.
As with every Mitsubishi Electric UPS system, the DiamondPlus 1100 series is designed with serviceability in mind. The DiamondPlus 1100's power and battery modules are "hot swappable" for maximum flexibility and rapid mean-time-to repair (MTTR). The DiamondPlus 1100 series is fully supported by Mitsubishi Electric Power Products' 7x24x365 preventive and corrective services, training and application expertise.
For more information, please click on the following links to send us an email or request a quote.
---