UPS Systems for Critical Applications
Product Announcement from Mitsubishi Electric Power Products, Inc.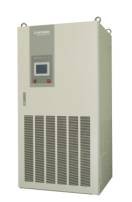 Extended Battery Life
l Current source from batteries for step loads is no
longer required with the installation of IGBT in both the
converter and the inverter. Previous UPS systems
required assistance from batteries when the converter
was unable to supply the required current. This cycling
of batteries caused shorter life.
l Mitsubishi Electric IGBT incorporate the latest technologies
and provide step load applications (0-100%) without
the use of batteries, thus ensuring maximum battery
service life (i.e., lower lifetime cost of UPS system).
Internal Maintenance Bypass
All 2033D Series UPS systems are equipped with an
internal wrap around maintenance bypass system for
greater maintenance flexibility.
l UL 1778 approved
Superior Control
All 2033D Series UPS systems use pulse width
modulation (PWM) for superior control and performance.
A digital signal processor (DSP) ensures precise control
of all input / output parameters.
Operator-Friendly Control Panel
Features:
l Mimic bus diagram
l Operator control station
l Touch panel input
LCD Monitor Displays:
l System metering
l Menu-driven start-up procedures
l Menu-driven operating procedures
l History of events
l Load true power factor
Additional Features:
l Password lock out for start / stop operation
l EPO button
Real-Time Battery Monitoring
l Remaining battery time displayed for operator
l Integrated "DiamondSense" system automatically
detects weak cells
Superior Functions
l Automatic restart
l Automatic retransfer
l Converter walk-in function
l Battery monitoring
l 2 sets "Form C" dry contacts of selectable items
l Large overload / overcurrent capacity
l Battery temperature compensation
l Adjustable DC cut-off
l Line drop compensation
Quiet Operation
l 30-80kVA®65dB (A scale, 1m)
Warranty
Standard warranty is two years, including parts
and labor.
(NOTE: All information subject to change
without prior notice.)
GSA Contract Number
GS-07F-9526G
Log
Menu
2008 Nemertes Award Winner for
"Best Small Business Provider for Power Systems"
Notes:
‡
Dimensions and weights are subject to change without notice. Consult MEPPI for exact dimensions and weights.
1.
Consult MEPPI UPS Engineering Department for "special" CLC cabinet configurations.
Dimensions•Weights•Specifications
Notes:
1.
30kVA weight includes internal batteries (580 lbs.)
2.
30kVA battery back-up, 6 minutes.
Consult Mitsubishi for Battery Cabinet Configurations.
UPS Units
CLC Cabinets
Specifications: 2033D Series 30kVA – 80kVA
Rated Output kVA
30 50 80
Rated Output kW
24 40 64
AC INPUT
Configuration
3 phase, 3 wire
Voltage
480 V +15% to -15% (-30% can be operated)
Frequency
60 Hz (45.4Hz to 65Hz)
Reflected Current THD
4% typ. at 100% load; 7% typ. at 50% load
STATIC BYPASS INPUT
Configuration
3 phase, 3 wire
Voltage
480 V ±10%
Frequency
60 Hz
BATTERY
Type
Lead Acid
Ride Through
Application specific
Nominal Voltage
480 VDC
Minimum Voltage
401 VDC
Number of Cells
240
AC OUTPUT
Configuration
3 phase, 4 wire
Voltage
120/208V, 277/480V
Voltage Stability
±1%
Frequency
60 Hz
Frequency Stability
±0.05% in free running mode
Power Factor
0.8 nominal
Power Factor range
0.8 – 1.0 lagging (within output kW rating)
Voltage THD
2% typical THD at 100% Linear Load; 5% typical THD at 100% non-linear load
Transient Response
±3% at 100% load step; ±1% at loss / return of AC power;
±3% at load transfer to/ from static bypass
Transient Recovery
16.6 ms
Inverter Overload
125% for 10 minutes, 150% for 1 minute
System Overload
1000% for 1 cycle (with bypass available)
Bypass Overload
150% for 1 minute
ENVIRONMENTAL
Cooling
Forced air
Operating Temperature
32°F ~ 104°F (0°C - 40°C); Recommended 68°F - 86°F (20°C - 30°C)
Relative Humidity
5% ~ 95% non-condensing
Altitude
0 ~ 9000 feet no derating
kVA / kW
480V / 208V Dimensions
(W x D x H) (inch)
Weight (lbs)
480V / 480V Dimensions
(W x D x H) (in)
Weight (lbs)
30 / 24
34 × 31.5 × 70.9 2,050 34 × 31.5 × 70.9 2,050
50 / 40
34 × 31.5 × 70.9 1,580 34 × 31.5 × 70.9 1,580
80 / 64
34 × 31.5 × 70.9 1,980 34 × 31.5 × 70.9 1,980
kVA Part Number System Voltage
Dimensions ‡
(W x D x H) (inch)
Weight (lbs)
30
CLC-MMS1-030-480 480V/480V 36 x 29.5 x 71 540
30
CLC-MMS3-030-208 480V/208V 36 x 29.5 x 71 760
50
CLC-MMS1-050-480 480V/480V 36 x 29.5 x 71 540
50
CLC-MMS3-050-208 480V/208V 36 x 29.5 x 71 910
80
CLC-MMS1-080-480 480V/480V 36 x 29.5 x 71 540
80
CLC-MMS3-080-208 480V/208V 42 x 29.5 x 71 1,270
---