CAT-III Vibration Analyst Certification online
Product Announcement from Mobius Institute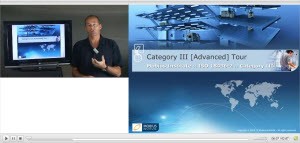 As a Category III vibration analyst you are expected to be able to diagnose all of the common faults conditions with rolling element bearing machines; have a good understanding of fault conditions associated with sleeve bearing machines; utilize time waveforms, phase readings and enveloping/PeakVuew etc. readings to diagnose faults; and understand all condition monitoring technologies, how and when to apply them, and how to combine technologies to get the best results.
You must also understand machine dynamics (natural frequencies, resonance, etc.); how to perform resonance testing; and how to correct resonance problems. You must also understand balancing, alignment, and isolation. You are also, therefore, required to understand all of the single and cross-channel measurement capabilities of your analyzer.
And finally, you are also expected to be able to set up the program, run a successful program, and mentor the junior analysts.

Play CAT-III Vibration Analyst Certification online Video
---