Vibration Analyst FLIGHT SCHOOL
Service Detail from Mobius Institute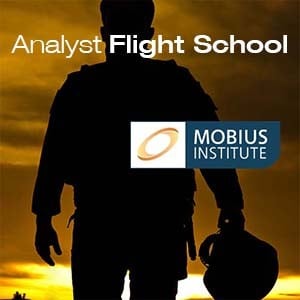 Mobius Institute's new opportunity for vibration analysts; Analyst Flight School provides valuable experience-building opportunities for ISO Category I, II and III vibration analysts.
Much like flight simulation is to a pilot, Analyst Flight School challenges vibration analysts in a realistic environment of urgency and resource limitations. It is structured to encourage competitive, team-oriented problem solving; where students apply the knowledge obtained in prior vibration theory training courses to a wide variety of real machine problems. Student teams learn to apply themselves in a way that is only available from real or simulated machine failure scenarios. And as a pilot knows, developing real experience during a real situation can have catastrophic consequences. Analysts walk into Analyst Flight School with theoretical training and often limited experience, and walk out qualified as "flight ready".
Analyst Flight School is offered in two levels; the introductory course (AFS-1) focuses primarily on applying spectrum analysis and field testing techniques such as phase, proper spectrum resolution, diagnosing bad rolling element bearings and a variety of other machine problems. It provides the analyst an understanding of what the data illustrates and follow-on steps to finding the proper diagnosis. AFS-1 turns students into confident, competent analysts. The advanced course (AFS-2) focuses extensively on understanding the time domain and its place in the analyst's diagnostic tool box. Students will understand how time domain plots supplement FFT analysis, how the spectral plots are affected by the signal shape and how time domain analysis can be indispensable to a correct diagnosis. As with AFS-1, these courses don't just tell a student how to do it, they demonstrate how by allowing those to learn through their own successes and mistakes in analyzing and solving recreations of complex machine fault scenarios.
Learn more at www.MobiusInstitute.com/FlightSchool
---