Moffitt MoffittVent Natural Ventilator
Product Announcement from Moffitt Corporation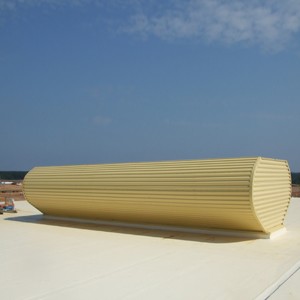 The MoffittVent is highly effective in ventilating heat from a variety of facilities. It is designed to both increase the speed and effectiveness of heat evacuation while at the same time preventing any rain from entering the interior space. The MoffittVent can stand up to the harshest weather conditions. In fact, higher wind speeds actually increases ventilation performance. Rainwater falls into downspouts that drain directly onto the roof, preventing any leakage.
The MoffittVent is often used in facilities and for applications previously considered the domain of roof top fans and powered ventilation equipment. Since it has no moving parts it uses no power, requires little to no maintenance, and operates noiselessly. It can be installed in both new and retrofit applications. Throat sizes are available from 24" to 180" and the length can be made to fit with sizes ranging from 10' to 1000'.
The MoffittVent is ideal for high-heat environments and applications. It also works well for general building ventilation and when used with other Moffitt ventilation products, it can be a key component in controlling condensation.
Some facilities that have used the MoffittVent include.
Aluminum Smelters
Glass Plants
Steel Mills
Ware Houses
Manufacturing Plants
Power Plants
Pulp & Paper Product Facilities
General Manufacturing Plants
Chemical Plants
---