Laser Tachometer...Portable Pocket PLT-200
Featured Product from Monarch Instrument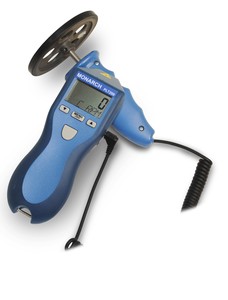 Monarch Instrument - The Pocket Laser Tach 200 is a digital, battery-powered portable optical tachometer, which operates up to 25 feet from a reflective target using a laser light source. The ergonomic design allows safe, direct line-of-sight viewing of both the target and the display at the same time, while providing a no-slip rubber surface for single hand operation.
Multi-Function PLT200 is a 32 function Tachometer/Ratemeter, Totalizer/Counter and Timer (stopwatch), which is programmable in both English and Metric rates. Support is built-in for both our optional Remote Contact Assembly (RCA) and our Remote Sensors. PLT200 has a TTL compatible Pulse Output to trigger devices like data collectors or stroboscopes. The KIT is supplied complete with a Remote Contact Assembly including concave and convex tips and a 10 cm linear speed wheel all in a latching carrying case.
Display: 5 Digits, 5 Alpha-numeric LCD Range(s): *Optical: 5 to 200,000 RPM *Contact RPM: 0.5 to 20,000 RPM Accuracy Optical: ±0.0015% of reading Contact: ±0.05% of reading (rpm) Resolution: 0.001 to 10 RPM (range dependent) Operating Range: 2 inches to 25 feet Memory: Maximum, Minimum and Last Power: (2) "AA" 1.5 VDC batteries Environ: 5° to 40°C (0° to 100°F) 80% RH up to 31°C (88°F) Dimensions:6.92"(H) x 2.4"(W) x 1.6"(D) Weight: 7 oz. (210 g)
Order this product now.