Brushless DC Torque Motors - DB Series
Featured Product from Moog Inc.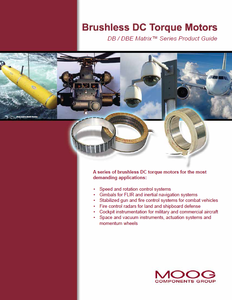 Moog's DB/DBE Matrix™ Series brushless torque motors are used in the most demanding applications that require high power density and/or quick accelerations. The designs are optimized to minimize input power for maximum efficiency.
Utilizing high energy rare earth magnets and dense slot fills, the DB Matrix Series achieves high Km values. This provides the highest performance per volume and minimizes the motor footprint within the system. The motors are supplied as a direct drive rotor / stator frameless part set that is directly attached to the load. This form of attachment eliminates backlash and increases servo stiffness for an optimized direct drive system.
The DB / DBE Matrix Series is a family of motors consisting of a wide range of sizes, outside diameters from 1.5 to 22 inches (38 to 558.8 mm) with several stack sizes for each diameter.
Along with our standard Matrix motors, our engineers design custom solutions. If our existing models don't meet your needs, we will tailor them or provide options for a best value solution to meet your exact requirements.
Click here for product models and specifications.
Download product guide.