Fiber Optic Rotary Joints - Perform/App Highlights
Featured Product from Moog, Inc. - Industrial division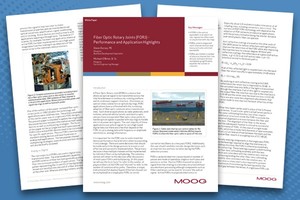 Fiber Optic Rotary Joints (FORJs) are to optical signals what electrical slip rings are to electrical signals, a means to pass signals across rotating interfaces, particularly when transmitting large amounts of data. FORJs maintain the intrinsic advantages of fiber end to end. Moog Components Group has been producing Fiber Optic Rotary Joints for over twenty years.
Moog's fiber optic rotary joint products are available in a variety of configuration options and can be customized to your needs.
Explore Moog's FORJ product line.
FORJ applications are on the rise with the increasing adoption of fiber optic communication transmission lines. Today, swivels, radar pedestals, wind turbines, armored vehicle turrets, and electro-optic sensors incorporate FORJs to handle optical signals for improved performance. Often, these devices are used in parallel with slip rings to handle electrical power and signals, offering practically unlimited bandwidth. Moreover, FORJs feature sophisticated technology and versatile design options for high-speed transmission of digital and analog data in a wide range of industry applications.
Understanding the different types of channels available, key differences between analog and digital data transmission and other critical performance factors is essential to choosing the right FORJ.
Download Moog's white paper, "Fiber Optic Rotary Joints - Performance and Application Highlights" to learn what type of FORJ best supports your unique performance and application needs.