LifeGuard Ultrasonic Air Bubble Detector
Featured Product from Moog Inc.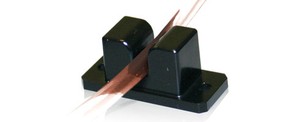 Moog's LifeGuard ultrasonic air bubble detectors feature proprietary swept frequency technology, making these sensors more reliable and accurate than those utilizing fixed frequency or pulse-type circuitry.
LifeGuard air-in-line sensors offer the most flexibility in air bubble sensor sizes, with three standard configurations for common tubing sizes. Additionally, production performance equivalent (quick-turn) custom sensors for use with any tubing size are available utilizing in-house 3D printing capabilities.
Features of all LifeGuard Air Bubble Detectors
Detectors maintain precise sensitivity without calibration
Extremely reliable swept-frequency technology prevents sensor performance from drifting with temperature, age or environmental conditions
Integrated self-test function provides 100% single fault coverage
Dry-couples to PVC, silicone and many other tubing types with thick, thin or reinforced walls
Output pulse width is proportional to bubble size — allowing user's system to monitor subcritical bubbles
Chemically compatible with common medical grade cleaners
Vibration resistant
Wide temperature range stable
High reliability: > 1 M hours MTBF
Proven performance in life critical equipment
Low power consumption
RoHS compliant
Click here to learn more and to downlaod a data sheet.