Intelligent Linear Stepper Motor
Featured Product from Moons' Electric Co. Ltd.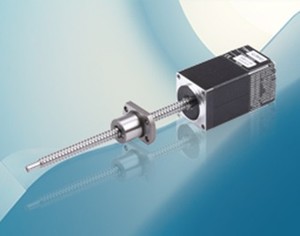 In response to the increasing demand for linear stepper motors for use in automation equipment, MOONS' has continuously research and development, and successfully introduced intelligent linear stepper motors that integrate ball screw, motor, driver, encoder, and controller. Innovatively incorporates servo control technology into stepper motors, creating an integrated motion control terminal with new and excellent performance.
According to the different combinations of drivers, it is divided into: TSM series (driver integrated type) & AM series (driver split type). Compared with general open-loop linear stepper motors, intelligent linear stepper motors operate more efficiently, more reliably, and smarter.
Features
Very tight position and velocity control for the most demanding applications.
Robust servo loops that tolerate wide fluctuations in load inertia and frictional loading.
MOONS' works with leading providers to source high precision ball screws, lead screws and nuts. With screw diameters up to 12 mm, linear actuators can be customized with a wide range of stroke lengths, leads, end machining, and nut configurations including anti-backlash nuts. Screws tailored to your exact requirements ensure you get the right actuator for your application.
Lower Heating/High Efficiency
Uses only the current required by the application, generating minimum heat output.
When stand-still, current can reach nearly zero for extremely low heat output.
Being able to use almost 100% of torque, allows for more efficient and compact motor usage.
Built-In Q Programmer Software
Q Programmer is MOONS' own single-axis motion control software based on SCL commands. It can be used to create sophisticated and functional programs that can be saved to a drive's nonvolatile memory, and then run standalone, or without a permanent connection to the host. Q drives offer a high level of flexibility and functionality to the machine designer and system integrator.
Motion control commands
Data register manipulation
Multi-tasking
Math Calculation
Modbus / RTU industrial fieldbus control, while supporting 32 axes
Quick selection
The model code rules of the intelligent linear stepper motor are as follows: