MDX Series Integrated Servo Motors
Featured Product from Moons' Electric Co. Ltd.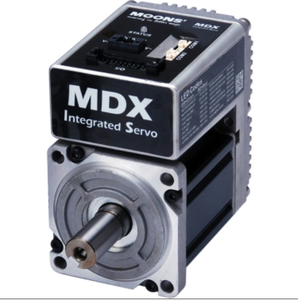 MDX Series Integrated Servo Motors, Frame Size: 60mm, IP20 or IP65 Rating, have reduced the total length of the motor by about 20%, Support the control modes, such as Pulse & Direction Mode, Analog Torque/Velocity, Velocity Control, Torque Control,SCL, Q Programming, Modbus RTU, ect. And there are three kinds of high precision planetary reducers as options for your choice (Reduction ratio 10:1, 20:1, 40:1)
Space-saving Design
IP20 or IP65 Rating
Q Programming
With CANbus (CiA 301 & CiA 402) or RS-485 Interface
High Position Accuracy & Excellent Control Characteristics
Support Basic Control Modes such as Position, Velocity and Torque
Easy to Parameterize by PC Software
Description
The MDX series, integrated servo motors are used to create decentralized motion control solutions in very compact units. They consist of a servo motor, feedback sensor and drive/controller system. They are controlled via a communication bus, or I/O interface (Q Program). The integrated servo motor is designed with a synchronous servo motor, thus providing numbers possibilities for user in a wide variety of applications.
? Features Overview
IP20 and IP65 protection
Q Programming, Program Storage
With CANbus (CiA 301 & CiA 402) or RS-485 interface
High position accuracy and excellent control characteristics
Basic mode such as position, velocity and torque are easy to parameterization.
PC-software easy to use for parameterization.
? Space-saving design (Unit:mm)
In our pursuit of making compact and space-saving design, we have reduced the length of the motor by about 20% ,thus allowing for mounting within the equipment with limited installation space.
? Waterproof and dustproof
MDX series integrated servo motors have IP65 rating high waterproof and dustproof characteristics.
? Freely Q Programming
Q Programmer is MOONS' own single-axis motion control software based on SCL commands. It can create sophisticated and functional programs that can be saved to a drive's nonvolatile memory, and then runs stand-alone, or without a permanent connection to the host. Q drives offer a high level of flexibility and functionality to the machine designer and system integrator.

• Motion control commands
(relative position, absolute position, homing mode, etc.)
• Multi-tasking
• Conditional processing
(external I/O, internal command)
• Math calculation
(+, -, *, /, &, or)
• Data register manipulation

• Logic motion command(loop, call functions)
? Easy setup and Servo tuning
Using MDX Quick Tuner software to drive set-up and configuration
Friendly interface
Easy set-up
Built in oscilloscope for motion testing and monitoring
Write and save SCL scripts
On-line help integrated
? Fieldbus Control
Standard CAN bus interfaces are available in MDX series, which make it easily to get integrated to a industrial field bus.