Water Coupled Transducer for Ultrasonic Flow Meter
Product Announcement from Morgan Advanced Materials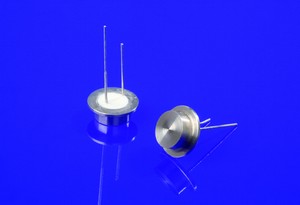 Morgan Advanced Materials presents its Ultrasonic Flow Sensors, ideal for applications including smart metering of heat energy and water meters. This transducer is intended to transmit and receive ultrasonic waves across a liquid channel for Time of Flight or Doppler shift flow measurement of water.
Combined with temperature monitoring the transducer can be used in a system for heat metering. Typical meters using this technology will use 1, 2 or 3 of these transducers. Designed using our world class piezoelectric materials, this transducer is suitable for continuous operation at 80 Bar operating pressure and 120ºC continuous operating temperature.
| | |
| --- | --- |
| Nominal resonant frequency | 1MHz |
| Bandwidth for a pair (-6dB) | > 15% |
| Receive signal at 100mm separation for two transducers (reference operating voltage) | > -13dB |
| Directivity (-3dB) | 11º |
| Maximum instantaneous voltage | 250Vp-p |
| Insulation resistance at 250V | > 1GΩ |
| Operating temperature | 1ºC to 120ºC |
| Storage temperature | -5ºC to 150ºC |
| Maximum burst pressure | 80 Bar |
| Housing material | Stainless steel* |
| | |
(* Advanced ceramic materials available for extreme pressure requirements, alternative geometries available upon request)
Membrane Assemblies
We can offer bonded assemblies to the temperature and pressure specification defined above. Flat or wrap around electrodes (bulls eye or moon configurations) can be offered, with gold, nickel or silver plating. The high density, high consistency materials offer exceptional frequency tolerance on piezoceramic shapes and assemblies (+/-1%). Nickel or gold plating provides a good connection for sprung loaded contacts to reduce the overall cost of assembly.
Custom Sensor and Transducer Design and Manufacture
Our transducer research and development team are dedicated to working with customers to find solutions for their products. Using top of the range tools, such as 3D Finite Element Analysis, they can virtual prototype transducers to cut down development time. Additionally, we design and manufacture air-coupled sensors for Smart Metering of natural gas. Our design engineers can adjust the architecture, manufacture process and material of the sensor for a particular application in low, medium or high volumes. Upon request we can provide a quotation for development and manufacture of electronics to integrate with the customer's system.
Flow Meter Set-Up for Time of Flight Flow Metering
Measuring the flow of clean liquid can be achieved by mounting transducers at an angle, by reflective blocks, or by channelling the flow stream between the sensors.
Doppler flow measurement
Alternatively it is possible to measure flow rate with a single transducer placed at an angle clamped onto the pipe. Entrained air bubbles in the stream of fluid reflect the transmitted wave back to transducer.
The Doppler shift of the frequency is used to measure the speed of the flow. This technique is useful for measuring the flow rate of non-clean liquids, liquids with bubbles or turbulent liquids. This method requires 100 parts per million (ppm) of 100μm suspended bubbles.
---