120-480W AC/DC DIN-rail Converter LIFxx-10BxxR2
Featured Product from Mornsun Power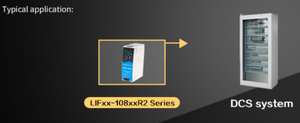 1. Intorduction of LIFxx-10BxxR2 Series
To address the problem of size matching and active PFC function in applications, MORNSUN lunches 120-480W (low profile) AC/DC DIN-rail converter with PFC function——The LIFxx-10BxxR2 series features an 85-264VAC universal input voltage range, only 41*124*110mm in size with thin and light, to meet customer expectations for size, performance and cost.
2. Product advantages
1) Wide input voltage
Universal input voltage range: 85 - 264VAC/120 - 373VDC, accepts AC or DC dual-use;
2) Ultra-slim compact structure design
The size is only 41*124*110mm and thickness is only 41mm, ultra-slim design is far ahead of the mainstream market (Compared with the similar products on the market, the size is reduced by 20%); in addition to the advantages of easy installation with DIN-rail package, compact structure saves a lot of space for customers.
3) High efficiency and reliability
The efficiency of this series is up to 94%, with output short circuit, over-current, over-voltage, over-temperature protections, RFC function and DC OK function.
4) Quality Assurance
The products satisfy the requirement of performance in different environments, high reliability, 3 years warranty, long life, and MTBF is up to 300000 hours.
3. Product application of LIFxx-10BxxR2
It is widely used in industrial control, LED, street lighting control, electric power, security, communications and other scenarios with space requirements-to provide high stability, high anti-interference and high electrical performance power supply. This product is suitable for use in a natural air cooling environment. For use in a closed environment, please consult our FAE department.
Typical application: DCS control system
4. Features of LIFxx-10BxxR2 Series
Input voltage range: 85 - 264VAC/120 - 373VDC
Only 41mm thickness
Efficiency up to 94.0%
Accepts AC or DC input (dual-use of same terminal)
Operating temperature range: -40ºC to +70ºC
High reliability and efficiency
DC OK function
Power-ON led indicator
Output short circuit, over-current, over-voltage, over-temperature protection
Meet IEC/EN/UL62368, UL61010 standards