450-600W AC/DC enclosed power supply LMxxx-12Bxx
Featured Product from Mornsun Power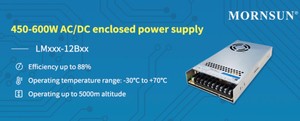 Introduction of LM450/600-12Bxx
Recently, MORNSUN introduced the new 450W and 600W AC/DC enclosed power supplies LM450-12Bxx and LM 600-12Bxx series, and now the power range of LM-12Bxx series covers 200W, 350W, 450W, and 600W to meet the different demands of various applications.
These products have the advantages of small size, high efficiency, wide operating temperature range along with multiple protection functions such as over-temperature, over-current, over-voltage, and over-current. They offer excellent EMC performance and meet
IEC/EN61000-4, CISPR32/EN55032, IEC/UL/EN62368, GB4943 standards. The product adopts a highly automated process design, exquisite device layout, and reduced redundancy design to achieve the best match of performance and cost. A good design combines with an automated manufacturing process that reduces redundancy design and optimizes device layout to achieve the best performance and cost.
In order to meet the requirements of a variety of environmental applications, you also have the options as below:
LMxxx-12Bxx-Q: Conformal coating with superior insulation, moisture-proof, leak-proof, shock-proof, dust-proof, corrosion-proof, aging-proof, corona-resistant, etc., suitable for harsh industrial environments.
LMxxx-12Bxx-C: with terminal cover to prevent accidental human contact with the terminal.
Application of LM450/600-12Bxx
It can be widely used in security, intelligent building, industrial control, communication and other industrial applications.
Typical application: Laser cutting machine
Features of LM450/600-12Bxx
Input voltage range: 176 - 264VAC or 240 - 373VDC
Operating ambient temperature range: -30ºC to +60ºC

Dimensions: LM450: 215*115*30mm, LM600: 267.30×106.00×40.00 mm
Warranty: 3 years
Operating up to 5000m altitude
Over-temperature protection, output short circuit, over-current, over-voltage protection
Low ripple and noise
High efficiency up to 88%