5W 85-528VAC Ultra-wide Input AC/DC Converter
Featured Product from Mornsun Power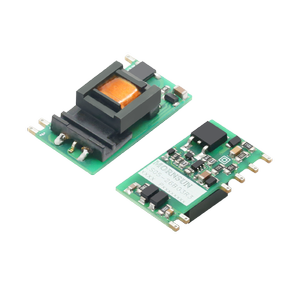 5W 85-528VAC Ultra-wide Input Voltage SIP AC/DC Converter for flexible design-LS05-26BxxR3 Series
MORNSUN launched the low-power AC/DC converter LS-R3 series in 2020, which has an ultra-compact size and flexible for multiple applications. To better fulfill the market demand for higher voltage input, we launched the LS05-26BxxR3 series with 5W power.
The LS05-26BxxR3 series feature ultra-wide input voltage range of 85 - 528VAC/100 - 745VDC, wide operating temperature of -40°C to +85°C, an efficiency of up to 81%, and a compact size of 33.5*17.2*13mm to flexibly build peripheral circuits, all of which make it a cost-effective solution.
Advantages
1) Ultra-compact size
The compact size of 33.5*17.2*13mm, solving the space shortage problem in customers' design to improve space utilization.
2) Wide input voltage: 85 - 528VAC/100-745VDC
The input voltage is up to 528VAC, covering different regional grid voltage of 110VAC, 220VAC, 240VAC, 277VAC, 380VAC; Working well when connected to any two lines of the three-phase four-wire power supply system.
3) Versatile design, improve customer experience
Different applications require different parameters, LS05-26BxxR3 with a flexible peripheral design can satisfy customers' specific requirements. By simply changing the peripheral circuit, these modules can be used in consumer products to stand out from the low-cost competition, as well as in the harshest outdoor environment on industrial occasions, to meet the extremely high reliability requirements.
4) High performance
a. The efficiency up to 81%
b. Isolation voltage up to 4000VAC, with simple peripheral circuits, conducted radiation can pass CLASS A, and the residual is above 6dB.
c. Operating temperature range: -40°C to +85°C, working well in cold regions such as Russia and in environments with poor ventilation.
Applications
It is widely used in industrial control, power instrumentation, smart home and other occasions with space shortage problem but low EMC requirements. Additional EMC peripheral circuit is necessary when these modules are used in an environment of poor electromagnetic compatibility.
Features
Ultra-wide input voltage?85 - 528VAC/ 100- 745VDC
Accepts AC or DC input (dual-use of same terminal)
Working well when connected to any two lines of the three-phase four-wire power supply system
Operating temperature range: -40°C to +85°C
High I/O isolation test voltage up to 4000VAC
Multiple applications, flexible layout
Compact size, high power density, green power
Controlled life, adjustable cost
Output short circuit, over-current protection
Designed to meet IEC/EN/UL62368, IEC/EN61558, IEC/EN60335 standards