New 6-16A Non-isolated POL DC/DC Converter
Featured Product from Mornsun America,LLC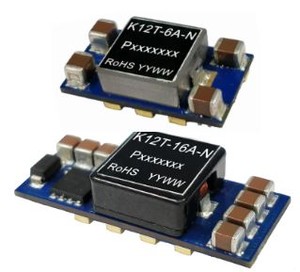 MORNSUN released a non-isolated POL DC/DC converters K12T series. The K12T series features compact SMD package and provides an output current of 6A, 10A, 16A, and their output voltage can be accurately adjustable from 0.75V to 5.0V.
The 6-16A non-isolated POL DC/DC converters can supply a large high speed transient response current for high speed chips such as FPGA, DSP, ASIC to simply its system design, which are suitable for a wide range of industrial applications including communication, computer network industry and dynamic distributed architecture, workstations, servers, LANs/WANs.

Product advantages:
1.Excellent temperature derating
Wide operating ambient temperature range for K12T series: -40? to+85?; Temperature derating: 60?(K12T-6A), 70?(K12T-1A), 40?(K12T-16A).

2. High-speed transient response
20us typical transient recovery time and large capacitive load can ensure the high-speed transient response and fast start-up that required by industries such as communication.

3. High conversion efficiency
Standby power consumption as low as 0.18W, efficiency at full load is up to 96%, efficiency at light load is up to 89%.

4. Complete protections

Input under voltage, output short-circuit, over-current protections.
Application case:
Industrial Switch Industry Power Supply Application
Features:
> Compact open frame SMD package
> High efficiency up to 96%
> CISPR32/EN55032 CLASS B EMI compliant without external components
> High-speed transient response