Why You Choose the MORNSUN 305RAC AC/DC Converters
Featured Product from Mornsun Power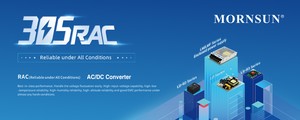 The market requirements in different industries are changing, and AC/DC power supplies need to keep up with the rising standards of quality and performance. Conventional 264V input AC/DC power supplies have difficulty meeting all working conditions.
Our technical engineers have designed the MORNSUN 305RAC AC/DC Converter Series with your needs in mind. Here below, we will present an overview of the MORNSUN 305RAC product collection and highlight some of its key features.
*Click on the subheadings below, you can faster get information about this article.
What is the MORNSUN 305RAC Series?
The MORNSUN 305RAC is a collection of AC/DC converters with an input range of 85-305VAC. In the product name, "RAC" is used as an abbreviation for "Reliable under all conditions", a guarantee of peak performance under all circumstances.
The MORNSUN 305RAC Series at a glance:
The MORNSUN 305RAC Series can handle voltage fluctuations easily and features best-in-class performance;
It provides optimal performance even in high-input-voltage, high-low temperature, high-humidity, and high-altitude environments;
It is designed for a good EMC performance even under the harshest working conditions;
What products are included in the 305RAC AC/DC Family?
The MORNSUN 305RAC AC/DC Converter Series is expanding periodically with new product entries. Below are some of the AC/DC Power Supplies currently available at MORNSUN:
Why should you choose the MORNSUN 305RAC Series?
There are several reasons to choose the MORNSUN 305RAC AC/DC Converters?and here are some key highlights:
High ability in resisting public power grid voltage fluctuations
Peak performance even at high-altitude environments (up to 5000m)
Reliable performance even at extreme temperatures (from -40°C to +80°C)
High ability to resist cyclic, extreme, and constant humidity
? Good EMI performance (CISPR32/EN55032 CLASS B)
We will now review each point in detail:
1. Voltage Fluctuations in the Power Supply
Large voltage fluctuations can cause damage to the electrolytic capacitor inside the power supply, especially when the power comes from a generator.
Why choose the MORNSUN 305RAC: the input voltage range of the MORNSUN 305RAC (85-305VAC) ensures that the module is not damaged by any voltage fluctuations.
2. Remote and Harsh Environments at High Altitudes
AC/DC power supplies are often used in remote and harsh environments where the altitude exceeds 2000m or even 5000m.
Why choose the MORNSUN 305RAC: the 305RAC Family has passed a series of tests to verify its reliable operation even in high-altitude environments. Some of the tests performed include high-temperature altitude test, low-temperature altitude test, aging test, and more.
3. Fluctuations in Temperature and Humidity Levels
The reliability of AC/DC power supplies is essential when dealing with significant temperature swings. The typical working environment for industrial equipment is -25°C- +70°C. However, some environments are more prone than others to severe temperature changes, and AC/DC power supplies need to keep pace with the changeful environmental variables.
Why choose the MORNSUN 305RAC: the 305RAC series can uphold reliable operations at working temperatures ranging from -40°C to +80°C. It has also passed a series of humidity tests, including alternating temperature and humidity tests, high temperature and high humidity tests, constant temperature and humidity tests, and more.
4. Susceptibility to Conducted Voltage Disturbances and EMI
Electromagnetic Interference (EMI) is always a potential problem with switched-mode power supplies - both AC-DC and DC-DC converters - by virtue of their inherent design characteristics. As an engineer, you may be familiar with the several benefits of switched-mode converters, including high efficiency with small size and weight. However, many engineers also struggle with the electrical noise they produce.
Why choose the MORNSUN 305RAC: each of the 305RAC AC to DC converters can withstand the transient surge impact generated from electromagnetic interference conditions, including lighting and surge. Their EMI has also been tested to meet Class A/B standards with a good margin.
What are some applications of the MORNSUN 305RAC Series?
The MORNSUN 305RAC AC/DC Converters are designed to ensure stable and reliable performance under almost any harsh conditions. While the key attributes are consistent among all the AC/DC Converters in the 305RAC Family, their applications can vary according to each industry.
Here below we will examine some of the most prominent applications scenarios for the MORNSUN 305 RAC Series:
1. DC Charging Points
Your challenges: DC charging stations are becoming more widespread as electric vehicles are slowly but steadily replacing their petrol and diesel counterparts. As an engineer, you need to prevent and control any possible large voltage fluctuations of the power grid in harsh environments. When the input voltage rises to 290VAC, the voltage unbalance of the three-phase AC distribution system can cause damage to the electrolytic capacitor inside the power supply.
Our solution: LMxx-23Bxx
2. Street Lighting Controllers
Your challenges: streetlight luminaires require a constant flow of current to promote road safety for drivers and pedestrians in low-visibility conditions. Conventional power supplies with 85-264VAC input can be damaged in harsh environments where the input transient voltage exceeds 264VAC.
Our solution: LDExx-23Bxx
3. Protective Relays
Your challenges: protective relays are often applied directly to the electrical power grid and need to operate under difficult working conditions. In particular, the requirements for EMC protection are among the highest to ensure long-term reliability in protective relays.
Our solution: LO30-23B12E
4. Lighting in Harsh and Hazardous Areas
Your challenges: street lighting in hazardous areas needs to operate continuously despite any atmospheric conditions, including extreme temperatures and high humidity levels. Other challenges of AC/DC power supply applications in street lighting include operating in dusty environments and withstanding large voltage fluctuations.
Our solution: LMF320-23B12
Conclusion
As the name suggests, the MORNSUN 305RAC Series is designed to ensure stable and reliable performance under all conditions. When you choose a MORNSUN AC/DC converter, you can expect reliable performance with limited costs.
You deserve high power reliability for all the power supplies you purchase. At MORNSUN, we take every effort to improve our innovation and technology capability. We are committed to continuously refining and improving our selection of over 5000 high-quality products to ensure the highest level of client satisfaction.
Contact us today to request a sample or to ask us any questions related to the MORNSUN 305RAC Family.