For Dry, Bulk Transport,Tank Tubing!
Product Announcement from Morris Coupling Company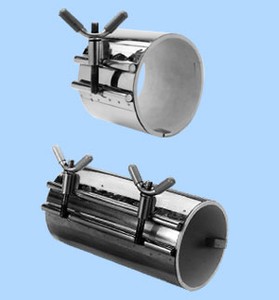 The GRIPPER was devised as a quick coupler for dry, bulk transport, tank tubing. This unique coupling just slides onto the tubing or wraps around it and is tightened by hand in seconds, but it provides better support than rubber hose and band clamps.
The GRIPPER's positive-sealing gum gaskets allow for tube and pipe variations. And, because it's made of 100% stainless steel, it will not corrode due to harsh weather or road conditions.
A hook-style latching coupling providing a secure seal for installation or removal of low pressure or vacuum tubing lines.
Wrap around design, quick connect and disconnect coupling
All stainless-steel construction
Improved support over rubber hose and band clamps
Sizes range from 1-1/2" O.D. through 12" IPS
Standard 4" length for single grippers and 9-1/2" length for dual grippers
Gum rubber or silicone gaskets available
Morris Coupling offers a 70 year commitment to serve our customers with quality products and superior service unequaled in the pneumatic and vacuum conveying industries.
Founded in 1941, Morris began its entry into pneumatic conveying through its design and introduction of the industry's first compression coupling - still the standard of the industry after more than 60 years. Superior quality, unequaled service and an unending commitment to total customer satisfaction has firmly established Morris as the world's leading manufacturer and supplier of components for pneumatic conveying systems.
Morris' significant growth over the years has been driven by an enhanced product offering, tremendous customer loyalty and outstanding employee dedication. A family-owned company with its corporate headquarters in Erie, PA, Morris Coupling has manufacturing facilities in Erie and Knoxville, TN, as well as distribution warehouses in Canada and Europe.
Couplings
Hose
Tubing and Pipe
Installation Components
When you want Superior Service Morris Coupling delivers:
Corporate commitment to providing 100% on-time shipments
Knowledgeable and conscientious sales team determined to meet your requirements
Extensive product range to satisfy your pneumatic, vacuum, and carrier pneumatic requirements
Continuing technological and process improvements enable Morris to supply the highest quality components
Morris will continue to ensure your competitive edge by monitoring and controlling product cost
---