To Repair Piping and to Repair Piping
Product Announcement from Morris Coupling Company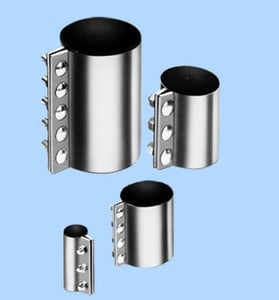 All A Round Stainless-Steel Couplings/Repair Clamps
This spanner-type combination coupling and repair clamp offers many advantages. It is quickly and easily installed by slipping on, or wrapping around, the pipe. This is because the spanner and gasket are permanently attached to the band, creating, in effect, a one-piece coupling/clamp.
The thick, resilient, Neoprene gasket assures a positive butt-joint seal. It accommodates surface variations such as encoun- tered in cast iron and fiberglass piping. The spanner design eliminates the need for a separate inner sleeve. The stain- less steel All A Round Coupling/Repair Clamp offers a lightweight and economical unit which is strong and durable.
Specifications:
Band and spanner 304 stainless steel.
Butt joint Neoprene gasket.
Bar washers zinc-plated steel.
Carriage-type bolts and heavy hex nuts are zinc-plated carbon steel
or 304 stainless steel.
For other materials to meet special needs,consult factory
A quick and easy, lightweight and economical, one-piece coupling to join or repair system piping. This spanner-type combination offers:

Stainless-steel construction with thick neoprene gasket and stainless-steel spanner cemented to shell
A positive butt-joint seal
Ideal for repairing or joining water lines
Click here for a printable data sheet of this product
Click here to download the full catalog
Morris Coupling offers a 70 year commitment to serve our customers with quality products and superior service unequaled in the pneumatic and vacuum conveying industries.
Founded in 1941, Morris began its entry into pneumatic conveying through its design and introduction of the industry's first compression coupling - still the standard of the industry after more than 60 years. Superior quality, unequaled service and an unending commitment to total customer satisfaction has firmly established Morris as the world's leading manufacturer and supplier of components for pneumatic conveying systems.
Morris' significant growth over the years has been driven by an enhanced product offering, tremendous customer loyalty and outstanding employee dedication. A family-owned company with its corporate headquarters in Erie, PA, Morris Coupling has manufacturing facilities in Erie and Knoxville, TN, as well as distribution warehouses in Canada and Europe.
Couplings
Hose
Tubing and Pipe
Installation Components
When you want Superior Service Morris Coupling delivers:
Corporate commitment to providing 100% on-time shipments
Knowledgeable and conscientious sales team determined to meet your requirements
Extensive product range to satisfy your pneumatic, vacuum, and carrier pneumatic requirements
Continuing technological and process improvements enable Morris to supply the highest quality components
Morris will continue to ensure your competitive edge by monitoring and controlling product cost
---