TorqueLab LTT-Series (Torque Tester)
Featured Product from Mountz, Inc.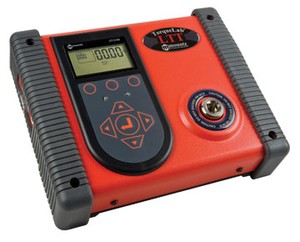 The LTT-Series torque analyzer is designed for calibrating tools, joint testing, auditing and measuring torque. Torque tools go out of calibration with use. To maintain consistent accuracy, torque tools must be checked periodically for wear or defective parts. A power or hand torque tool is a measuring tool that must be properly calibrated and maintained. The LTT is an advanced torque testing and documentation solution.
Meeting the demands to test multiple torque ranges for various torque tools used in production, maintenance and calibration labs, the LTT features EZ-Plug & Play technology, which is an auto-recognition system with Mountz torque sensors.
The EZ-Plug & Play feature of the LTT facilitates and expedites the process of setting up and running tool tests, as well as the transfer, analysis and storage of test data for ISO/SPC documentation purposes. The combined hard-software manufacturing solution offers tool testing, graphing capabilities and a graphical menu for easy navigation.
As an advanced torque controlling, monitoring and documentation solution, LTT enables operators and engineers to ensure product quality, safety and reliability promptly in a variety of manufacturing environments. The LTT torque tester can calibrate hand screwdrivers, pneumatic tools, torque wrenches, and power tools to avoid over tightening problems such as stripped threads and under tightening problems, which can increase liability and risk of recall.
In manufacturing environments, tool test data are commonly shared between various departments. The LTT solution allows for easy data sharing. After the readings have been recorded, the data points are easily uploaded from the device's flash memory to a PC through a USB interface. Once uploaded, the test data can be shared with other users over the regular computer network. Torque specifications or tools being used in production can thus be easily created, evaluated or confirmed.
The LTT features a built-in torque sensor and supports most external torque, force and load sensors. Torque and angle data is displayed simultaneously when used with torque and angle transducers, up to 8000 RPM for angle measurement. The torque analyzer is built with a high capacity Li-Ion battery for long life before needing to be recharged. It also features and buzzer and "Go / No Go" LEDs that illuminate when high or low setting is achieved.
Using a quality torque analyzer makes a safer world through accuracy and precision. Controlling torque is essential for companies to ensure their product's quality, safety and reliability isn't compromised. The failure of a three-cent fastener that isn't properly tightened can lead to catastrophic or latent failures. Fasteners that are insufficiently fastened can vibrate loose and excessive torque can strip threaded fasteners. Torque measurement should occur in all three facets of the assembly process.
Testing torque is literally a science and not something that can be left to chance. Talk with a torque expert. Have a Mountz representative visit your facility and provide a torque tester demonstration. Request an appointment today.