Benefits of Cordless Transducerized Screwdrivers
Featured Product from Mountz, Inc.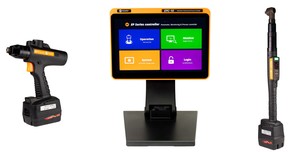 The EPT-Series cordless screwdrivers are durable transducerized tools for process reliability and efficiency with smart fastening strategies and high precision torque accuracy. The screwdriver safeguards against fastening failures for quality-minded engineers.
The battery-operated torque control system expedites all aspects of the automation process, from installing error-proofing disciplines to adaptive fastening strategies. A single Mountz DC control cordless system replaces up to 15 power tools.
The EPT cordless fastening systems allow an engineer to establish automated fastening workflows and sequencing events, ensuring the correct torque is delivered, time after time.
The lightweight, portable torque fastening system allows manufacturers to optimize the assembly area, reduce labor costs and increase productivity. The Mountz cordless intelligent screwdriver system offers maximum production results and product oversight with a built-in screw counter and error-proofing software