Brushless Electric Screwdrivers
Featured Product from Mountz, Inc.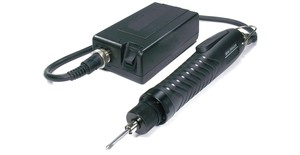 An electric screwdriver with a brushed motor incurs frequent maintenance intervals and costs that impede manufacturing efficiency and production output. Keeping power tools operating at total capacity is an essential objective for a manufacturing engineer to ensure productivity doesn't falter.
Electric screwdrivers with brushless motors are engineered for higher efficiency and performance. Brushless power tools have lower susceptibility to mechanical wear than brushed motor counterparts. The brushless motor solves many limitations of brushed motors by combining a higher output power, better heat dissipation and efficiency, wider operating speed ranges, and low electrical noise operation.
Request a consultation with one of our representatives today to learn how Mountz brushless electric screwdrivers deliver precision torque control and ensure process reliability and efficiency.
Brushless Electric Screwdriver Benefits
Precision torque control
Lower maintenance requirements and expenses
Longer lifespan (no brush and commutator erosion)
Reduced noise operation
ESD safe