Cordless pistol grip screwdrivers
Featured Product from Mountz, Inc.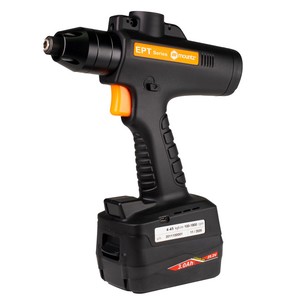 EPT-Series Pistol Grip Transducerized Cordless Screwdrivers
The EPT-Series cordless pistol grip screwdrivers are durable transducerized tools for process reliability and efficiency with smart fastening strategies and high precision torque accuracy. The screwdriver safeguards against fastening failures for quality-minded engineers. The transducerized tool features a built-in sensor that is continually measuring torque in real-time and feeding data back into the system. The error-proofing system eliminates manufacturing risks and product defects. Easily program the cordless screwdriver with fastening workflows and torque tolerances for each fastener in the sequence. The battery-operated screwdriver provides capabilities to record and store the torque & fastening data. A single cordless DC control system replaces up to 15 power tools. The battery tool eliminates power cables in the work area and improves safety and operations by optimizing the manufacturing footprint. The tool includes free product software - no annual licensing required—savings of $2K. Achieve a robust manufacturing process using this intelligent cordless screwdriver system.
E-DRIV® EPT-SERIES SMART CORDLESS SCREWDRIVERS
The transducerized smart cordless screwdriver provides a high degree of precision and accuracy. Combined with built-in screw counters and error-proofing software, Mountz DC control tools offer maximum production results and product oversight. The torque control system expedites all aspects of the automation process, from installing error-proofing disciplines to adaptive fastening strategies. A single battery-operated system replaces up to 15 power tools. The assembly tool reduces tooling costs and improves operations by optimizing a company's manufacturing footprint. Achieve multiple fastening tasks with one tooling system.
SERVICE AND CALIBRATION
SERVICE,CALIBRATION AND REPAIRS BY MOUNTZ SERVICE TEAM
Keeping your operations moving is a complex task. Time is precious and you need repairs and calibration done quickly; that is our commitment to you. We make sure every service and repair request we work on meets our exceptional safety standards.
Learn More About Tool Calibration: How Often Do Torque Tools Require Calibration? Staying Ahead of the Torque Calibration Period
Mountz, Inc. provides torque arms and the tools to equip them for any assembly line or manufacturing facility. To find out how Mountz can deliver the precision your assembly operations demand, shop our store.