EZ-TorQ III Digital Torque Tester
Featured Product from Mountz, Inc.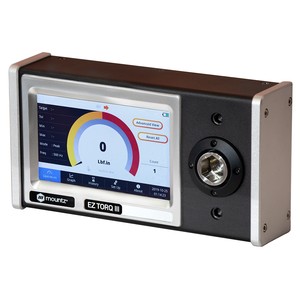 For quality-minded assembly professionals that are wanting to ensure their small hand and non-impacting power torque tools are accurate every time they are on the floor, meet the next generation of torque validation; the EZ-TorQ III.
Highly portable and user friendly, this battery powered torque validation hub can be easily carried around the assembly line to spotcheck tools as part of a QA program or used at assembly stations for quick and easy torque tool validation and calibration. The new smart phone like touch-screen interface breaks down barriers and ensures quick and easy validation of different ranges as needed.
In the manufacturing and assembly world, tightening, controlling, or measuring torque fasteners is imperative for production efficiency. An inadequately torqued fastener can vibrate or work loose; conversely, if the tension is too high, the fastener can snap or strip its threads. Faced with these problems, manufacturers are realizing that precise torque control can spell the difference between a safe, reliable, and economical product and complete disaster. Providing an easy to implement torque verification solution like the EZ-TorQ III can assist in this key QC endeavor.
Using a quality torque analyzer has become increasingly important for many companies to ensure that proper torque is being applied. Testing torque is a science and not something that can be left to chance.
The EZ-TorQ III makes torque control easier and more available across every aspect of the line from the calibration lab to the assembly station.