FGA Adjustable Torque Screwdrivers
Featured Product from Mountz, Inc.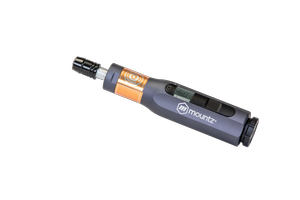 The FGA is the next-generation adjustable torque screwdriver by Mountz Torque. The unique screwdriver design features a digital torque scale that allows a user to adjust the torque setting digitally quickly. The tool eliminates the hassle that commonly plagues a field service technician or engineer's experience with a micro-meter scale screwdriver. That process entails the user fumbling around to align the setting visually on small print scale markings. In comparison, a digital scale screwdriver enhances the user experience by allowing them to quickly switch torque values in the field or at the workstation, leading to improved productivity.
The FGA adjustable torque screwdriver saves field service technicians and manufacturers time and tooling costs by allowing them to accurately tighten critical fasteners of different sizes—all with a single tool. The FGA digitally converts between metric and standard units.
Surpassing the ISO 6789 standard of 5,000 cycles before re-calibration, the FGA screwdrivers stay in calibration 4x longer than the stringent ISO industry standard and deliver a remarkable adjustable screwdriver calibration life with 20,000 cycles. Mountz FGA adjustable screwdriver is constructed from high-quality materials, designed for superior reliability and safety and backed by an industry-leading warranty.
Engineered with a cam-over technology, the poka-yoke screwdriver prevents over-torque. The screwdriver uses an internal cam-over mechanism to reduce the risk of operator error by disengaging once reaching torque. The Mountz cam-over technology increases the consistency of torque delivered and joint reliability.
This error-proofing screwdriver safeguards against fastening failures by removing the operator's influence from the torque equation and delivers an accurate and repeatable fastening result. A manufacturer can provide the FGA adjustable torque screwdriver to any operator and have the confidence that he/she will deliver the correct torque, time after time.