Is Your Torque Wrench Out of Calibration?
Featured Product from Mountz, Inc.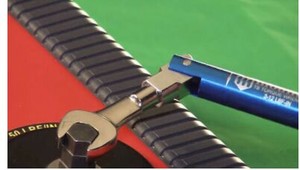 Is Your Torque Wrench Out of Calibration?
Precise torque control is vital for bolting applications. Torque wrench calibration is required to ensure that your tools keep operating at their precise torque settings.
Without periodic calibration, manufacturers could unknowingly be exposed to quality risks, with wrenches potentially drifting out of tolerance.
When is it time to check a torque wrench calibration? A frequent torque validation process, daily or weekly, provides a test for engineers to ensure their tools fall within acceptable tolerance limits.
Torque analyzers make it easy to test regularly to ensure optimal efficiency. If a torque wrench passes the validation test, keep using it on the production floor. If the tool fails the validation test, then the wrench needs to be calibrated.
To learn how to create a torque wrench validation process, request a consultation with a torque measurement expert today.
Live or on-demand — Watch it when it's convenient for you.
As The Torque Tool Specialists® we have experienced a breadth of manufacturing environments and gathered a range of perspectives. We are happy to share what we have learned over the years to help our colleagues and customers find the best torque solutions for your business. More than just a physical force, torque is a means for increasing your operational success. Dig in to discover how.
SERVICE AND CALIBRATION
SERVICE,CALIBRATION AND REPAIRS BY MOUNTZ SERVICE TEAM
Keeping your operations moving is a complex task. Time is precious and you need repairs and calibration done quickly; that is our commitment to you. We make sure every service and repair request we work on meets our exceptional safety standards.
Learn More About Tool Calibration: How Often Do Torque Tools Require Calibration? Staying Ahead of the Torque Calibration Period
Mountz, Inc. provides torque arms and the tools to equip them for any assembly line or manufacturing facility. To find out how Mountz can deliver the precision your assembly operations demand, shop our store.