NF-Series Brushless Electric Screwdrivers
Featured Product from Mountz, Inc.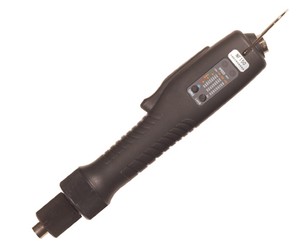 The NF-Series brushless electric screwdrivers feature an adjustable RPM setting on the tool and a selectable Soft Start mode. Engineered for high volume manufacturing applications the brushless motor design ensures durability and reduces the standard maintenance costs associated with brush-type electric screwdrivers. The NF power tool is ESD certified, ensuring less than 1 Ohm at the bit tip. ESD management assures product quality, cost savings and a reduction in overall ESD failures. Manufacturing engineers involved with microelectronic products are aware of the importance of controlling Electrostatic Discharge (ESD) failures. Lapses in preventing the occurrence of electrostatic discharge can affect production yields, manufacturing costs, product quality, product reliability, reputation and profitability.
Benefits of NF-Series Electric Torque Screwdriver:
The tool automatically shuts-off once the preset torque is reached
Lower maintenance requirements and expenses
Longer lifespan (no brush and commutator erosion)
Reduced noise operation
Provides accurate repeatability torque control
Protects the product from static shocks due to its ESD compliance
RoHS-compliant, CE approved and NRTL certified
Available in "Push-to-Start" or "Lever-Start" configuration
Can be connected with the Scout screw counter
Electric screwdrivers with brushless motors are engineered for higher efficiency and performance. Brushless power tools have lower susceptibility to mechanical wear than brushed motor counterparts. The brushless motor solves many limitations of brushed motors by combining a higher output power, better heat dissipation and efficiency, wider operating speed ranges, and low electrical noise operation.
Request a consultation with one of our representatives today to learn how Mountz brushless electric screwdrivers deliver precision torque control and ensure process reliability and efficiency.