Precision Preset Torque Screwdrivers
Featured Product from Mountz, Inc.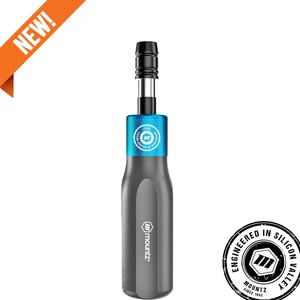 Modern, effective preset torque screwdrivers improve productivity by guaranteeing that the correct torque value is consistently applied to each fastener. Preset torque screwdrivers are ideal for fastening applications where operators repeatedly assemble parts at the same torque setting. A preset screwdriver is similar to setting an alarm clock to signal the achievement of a selected time. The screwdriver is pre-set to the application's required torque value. The tool signals once torque is achieved.
A preset screwdriver doesn't have an external torque adjustment scale. These tools have an internal torque adjustment mechanism for setting the torque value and preset using a hex key and a torque analyzer. The locking mechanism prevents accidental torque setting changes. Once the tool is set the screwdriver's end cap is sealed with a calibration sticker and ready to be used. However, if the preset torque value needs to be changed for a new fastening application the flexible tool can easily be adjusted to a new preset torque value.
Mountz FG Preset Screwdrivers
Preset hand torque screwdrivers from .8 lbf.in – 125 lbf.in (9 cN.m – 14.1 N.m)
Poka-yoke torque screwdriver prevents over-torque
Accuracy and precision delivered for all fastening applications
Calibration cycles 4X longer than the most stringent industry standard (ISO 6789)
Industry-leading warranty: 2 years unconditional. Lifetime against defects
You can give Mountz FG preset torque screwdrivers to any operator and have the confidence that they will deliver the correct torque, time after time.