Small Torque Wrench
Featured Product from Mountz, Inc.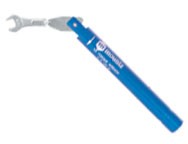 The versatile break-over wrench provides engineers the ability to improve process control by reducing the risk of over-tightening. Designed to accurately tighten diverse fasteners, the wrench informs the operator when the proper torque is reached by deflecting on their built-in hinge.
The small wrench profile enables the tool to fit into areas with tight clearances. The preset torque wrench allows a manufacturer to configure the head type and size per their application.
Mountz specializes in finding solutions for every fastening need, no matter how unique. Our interchangeable head torque wrenches can easily be fitted to fasten all nuts and bolts in common usage. Request a consultation with one of our representatives today to solve a nagging torque issue.
Break-Over Wrench Benefits
• Reduce the risk of over-torque occurrences
• Variety head options: Open, Box, Hex Key, Flare and Ratchet Heads
• Preset wrench ensures that the correct torque value is consistently applied to each fastener
• Tightening in space restriction applications