Transducerized Smart Screwdriver Set-Up 101
Featured Product from Mountz, Inc.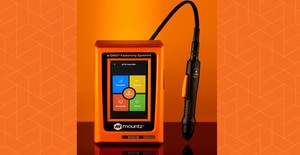 Mountz ECT tools give you the flexibility you need to carry out varied and complicated manufacturing plans. In this webinar, learn about the various fastening options that can be programmed. We will review the process of recording and storing the torque & fastening data, assembly monitoring options, line monitoring techniques, and performing data collection analysis.
The ECT-Series is an all-in-one transducerized smart electric screwdriver solution for process reliability and efficiency with intelligent fastening strategies and high precision torque accuracy. The screwdriver safeguards against fastening failures for quality-minded engineers. The transducerized tool features a built-in sensor that is continually measuring torque in real-time and feeding data back into the system. The error-proofing system eliminates manufacturing risks and product defects.
The torque control system expedites all aspects of the automation process, from installing error-proofing disciplines to adaptive fastening strategies. A single Mountz DC control automation system replaces up to 15 power tools. The assembly tool reduces tooling costs and improves operations by optimizing a company's manufacturing footprint. A manufacturer can achieve multiple fastening tasks with one tooling system. Mountz intelligent screwdriver system offers maximum production results and product oversight with a built-in screw counter and error-proofing software. And by providing documented fastening results, Mountz DC control tools also make regulatory compliance effortless.