ADSP-BF706 EZ-KIT Mini Evaluation Board
Featured Product from Mouser Electronics, Inc.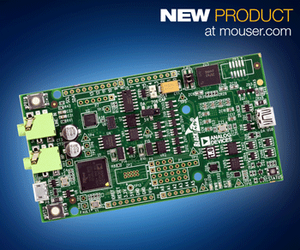 Mouser Electronics, Inc., the global authorized distributor with the newest semiconductors and electronic components, is now stocking the ADSP-BF706 EZ-KIT Mini Evaluation Board from Analog Devices. The ADSP?BF706 EZ-KIT Mini Evaluation Board aids in the development and testing of the 32-bit, 400 MHz ADSP?BF706 Blackfin DSP that delivers 800 MMACS of processing power at less than 100 mW. This mini evaluation board contains all the communication interfaces and external connections needed for DSP audio application design, including an Arduino?compatible interface.
The Analog Devices' ADSP-BF706 EZ-KIT Mini Evaluation Board, available from Mouser Electronics, offers a complete, small-form-factor, low-cost starter platform for evaluation of the ADSP?BF706 Blackfin DSP processor. The ADSP-BF706 EZ-KIT features on-board, high-quality audio I/O, 1,160 KBytes of on?chip internal SRAM, 4 MBytes of quad SPI Flash and connections for EPPI0, SPORT, SPI, I2C, and general-purpose I/O (GPIOs). The USB bus-powered board also features an on-board JTAG/SWD debug port through a separate USB interface, and an ADAU1761 SigmaDSP® low power stereo audio codec. The ADSP-BF706 EZ-KIT board also accommodates the installation of 0.1-inch stackable headers for interfacing with Arduino?compatible shields that are compliant with the Arduino™ Uno R3 shields interface.
When used with the Analog Devices CrossCore Embedded Studio (CCES), the ADSP?BF706 EZ-KIT Mini Evaluation Board offers advanced application code development and real-time debug capabilities. The CCES development environment allows designers to create, compile, assemble, and link application programs written in C, C++, and assembly code. The software package also includes DSP Concepts' graphical-based Audio Weaver software tool that provides a full-featured audio module library with efficient code generation and profiling.
The Mini Evaluation Board and ADSP-BF706 Blackfin processor targets power-sensitive embedded applications from portable audio to sound processing and effects.
With its broad product line and unsurpassed customer service, Mouser caters to design engineers and buyers by delivering What's Next in advanced technologies. Mouser offers customers 20 global support locations and the latest, most technologically advanced components for their newest design projects. Mouser Electronics' website is updated daily and searches more than 10 million products to locate over 4 million orderable part numbers available for easy online purchase. Mouser.com also houses an industry-first interactive catalog, data sheets, supplier-specific reference designs, application notes, technical design information, and engineering tools.
About Mouser Electronics
Mouser Electronics, a subsidiary of TTI, Inc., is part of Warren Buffett's Berkshire Hathaway family of companies. Mouser is an award-winning authorized semiconductor and electronic component distributor, focused on the rapid introduction of new products and technologies to electronic design engineers and buyers. Mouser.com features more than 4 million products online from more than 500 manufacturers. Mouser publishes multiple catalogs per year providing designers with up-to-date data on the components now available for the next generation of electronic devices. Mouser ships globally to over 500,000 customers in 170 countries from its 492,000 sq. ft. state-of-the-art facility south of Dallas, Texas.
SUBSCRIPTION CENTER - Mouser's Newest Products and Application News. STAY CONNECTED. Subscribe NOW.
See the Newest Products First
Gain Insights on Applications and Technologies
Customize your Preferences and Interests