Atmel WINC1500 Low Power WiFi Module Now at Mouser
Featured Product from Mouser Electronics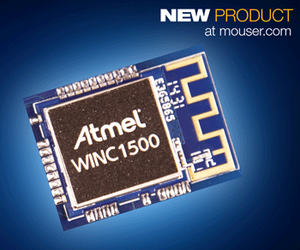 Mouser Electronics, Inc., the global authorized distributor with the newest semiconductors and electronic components, is now shipping the new WINC1500 Wi-Fi Module from Atmel Corporation. The WINC1500 is a low-power consumption 802.11 b/g/n WiFi module specifically optimized for low power Internet of Things(IoT) applications. The WINC1500 WiFi module supports WEP, WPA, and WPA2 WiFi security encryption as well as China WAPI security while drawing as little as 4µA. This module includes features that allow both WiFi and Bluetooth signals to coexist locally without any signal interference.
The Atmel WINC1500 Wi-Fi Module, available from Mouser Electronics, is a highly integrated device featuring a small form factor at only 21.5mm x 14.5mm x3.4mm. This module includes an integrated power amplifier, low noise amplifier (LNA), all necessary power management functions, and an integrated antenna. This module targets low power WiFi wireless applications and draws only 4µA in Deep Power Down mode. When in beacon monitoring mode the module draws only 850µA in Doze Mode. This module provides SPI, UART, and I2C host interfaces for communicating with a host microcontroller. It also supports 2-wire and 3-wire Wi-Fi/Bluetooth coexistence signaling interface. The interface allows this module to coordinate transmission and reception with a compatible Bluetooth module to insure that both radios do not interfere with each other.
The Atmel WINC1500 is based on a powerful Cortus-APS3 32-bit processor. This processor performs hardware accelerated MAC functions including association, authentication, power management, security key management, and MSDU aggregation/de-aggregation. In addition, the processor provides flexibility for various modes of operation, such as STA and AP modes. An on-chip IP stack minimizes the host microcontroller requirements and supports TCP, UDP, DHCP, ARP, HTTP, SSL, and DNS.
With its broad product line and unsurpassed customer service, Mouser caters to design engineers and buyers by delivering What's Next in advanced technologies. Mouser offers customers 20 global support locations and the latest, most technologically advanced components for their newest design projects. Mouser Electronics' website is updated daily and searches more than 10 million products to locate over 4 million orderable part numbers available for easy online purchase. Mouser.com also houses an industry-first interactive catalog, data sheets, supplier-specific reference designs, application notes, technical design information, and engineering tools.
About Mouser Electronics
Mouser Electronics, a subsidiary of TTI, Inc., is part of Warren Buffett's Berkshire Hathaway family of companies. Mouser is an award-winning authorized semiconductor and electronic component distributor, focused on the rapid introduction of new products and technologies to electronic design engineers and buyers. Mouser.com features more than 4 million products online from more than 500 manufacturers. Mouser publishes multiple catalogs per year providing designers with up-to-date data on the components now available for the next generation of electronic devices. Mouser ships globally to over 400,000 customers in 170 countries from its 492,000 sq. ft. state-of-the-art facility south of Dallas, Texas.
SUBSCRIPTION CENTER - Mouser's Newest Products and Application News. STAY CONNECTED. Subscribe NOW.
See the Newest Products First
Gain Insights on Applications and Technologies
Customize your Preferences and Interests