KEMET T551 Series PHS Polymer Capacitors
Featured Product from Mouser Electronics, Inc.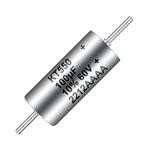 KEMET T551 Series PHS Polymer Capacitors feature a Ta anode and Ta2O5 dielectric. A conductive organic polymer replaces the traditionally used MnO2 or wet electrolyte as the cathode plate of the capacitor. This results in very low ESR and improved capacitance retention at high frequency and low temperature. KEMET T551 Series PHS (Polymer Hermetic Seal) also exhibits a benign failure mode, which eliminates the case breach that can occur in wet tantalum types. T551 may be operated at voltages up to 80% of rated voltage with equivalent or better reliability than traditional MnO2 or wet tantalum capacitors operated at 50% of rated voltage. T551 Series PHS also offers higher ripple current handling capability and a lower ESR range than wet tantalums. T551 Series PHS provides the highest total capacitance and the most economical solution for high power applications, all within an approximately 25% lighter package than the equivalent wet tantalum capacitor.
About Mouser Electronics
Mouser Electronics, a subsidiary of TTI, Inc., is part of Warren Buffett's Berkshire Hathaway family of companies. Mouser is an award-winning authorized semiconductor and electronic component distributor, focused on the rapid introduction of new products and technologies to electronic design engineers and buyers. Mouser.com features more than 4 million products online from more than 500 manufacturers. Mouser publishes multiple catalogs per year providing designers with up-to-date data on the components now available for the next generation of electronic devices. Mouser ships globally to over 400,000 customers in 170 countries from its 492,000 sq. ft. state-of-the-art facility south of Dallas, Texas.
SUBSCRIPTION CENTER - Mouser's Newest Products and Application News. STAY CONNECTED. Subscribe NOW.
See the Newest Products First
Gain Insights on Applications and Technologies
Customize your Preferences and Interests