Laird BT900 Bluetooth Modules with SmartBASIC
Featured Product from Mouser Electronics, Inc.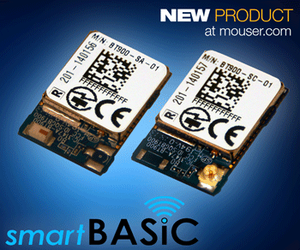 Mouser Electronics, Inc., the global authorized distributor with the newest semiconductors and electronic components, is now stocking the BT900 Bluetooth Modules from Laird Wireless. Engineered as intelligent, dual-mode modules for classic Bluetooth (BT) and Bluetooth Low Energy (BLE) operation, these Bluetooth v4.0 devices carry several FCC, IC, CE and Bluetooth SIG global approvals to speed time-to-market. Available as a dual module (BT900) or as a dual dongle (BT900-US), both series of devices are programmable using the event-driven smartBASIC programming language. The BT900 allows developers to quickly add Bluetooth to any wireless or Internet of Things (IoT) design.
The Laird Wireless BT900 Bluetooth Module, available from Mouser Electronics, is equipped with an embedded BTv4.0 stack with smartBASIC, offering Central and Peripheral modes. The smartBASIC language acts as a bridge between software and hardware, enabling an application written for one smartBASIC radio to work on another. smartBASIC replaces thousands of lines of C with a few lines of easy to read code. Both the BT900 dual module and BT900-US dual dongle work within the frequency of 2.402?2.480 GHz, have a maximum transmit power of +8 dBm configurable down to -20 dBm, a receive sensitivity of -90 dBm typical, and an overall range of up to 100 meters. Each series of devices also supports up to 7 client connections under Classic Bluetooth (BT) and up to 5 client connections under Bluetooth Low Energy (BLE).
The BT900 is available in two different variations: the BT900-SA with an internal antenna, or the BT900-SC with a uFL connector. The BT900 Series supports UART, I²C, and SPI interfaces. All the devices support simultaneous BT and BLE connections. The BT900 Series of modules provide a secure, stable Bluetooth environment for a variety of embedded wireless design applications, including industrial logistics equipment, barcode scanners, point-of-sale (POS) terminals, and health and medical devices - all without the need for an external MCU. The BT900-US dual dongle is based on the BT900-SA and provides a USB interface, allowing connection to any computer with a USB port.
The BT900 targets broad range of wireless applications that include barcode scanners, point-of-sale (POS) terminals, PCs, laptop computers, Internet of Things (IoT) devices, medical equipment (Connected Hospital) and other devices that operate in harsh industrial environments.
With its broad product line and unsurpassed customer service, Mouser caters to design engineers and buyers by delivering What's Next in advanced technologies. Mouser offers customers 20 global support locations and the latest, most technologically advanced components for their newest design projects. Mouser Electronics' website is updated daily and searches more than 10 million products to locate over 4 million orderable part numbers available for easy online purchase. Mouser.com also houses an industry-first interactive catalog, data sheets, supplier-specific reference designs, application notes, technical design information, and engineering tools.
About Mouser Electronics
Mouser Electronics, a subsidiary of TTI, Inc., is part of Warren Buffett's Berkshire Hathaway family of companies. Mouser is an award-winning authorized semiconductor and electronic component distributor, focused on the rapid introduction of new products and technologies to electronic design engineers and buyers. Mouser.com features more than 4 million products online from more than 500 manufacturers. Mouser publishes multiple catalogs per year providing designers with up-to-date data on the components now available for the next generation of electronic devices. Mouser ships globally to over 400,000 customers in 170 countries from its 492,000 sq. ft. state-of-the-art facility south of Dallas, Texas.
SUBSCRIPTION CENTER - Mouser's Newest Products and Application News. STAY CONNECTED. Subscribe NOW.
See the Newest Products First
Gain Insights on Applications and Technologies
Customize your Preferences and Interests