Maxim MAX11216 24-Bit ADC with PGA Only at Mouser
Featured Product from Mouser Electronics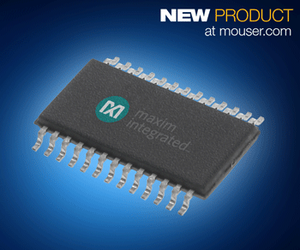 Mouser Electronics, Inc., the global authorized distributor with the newest semiconductors and electronic components, is first to stock the MAX11216 Analog to Digital Converter from Maxim Integrated. The MAX11216 is a single-channel 24?bit Delta Sigma Analog-to-Digital Converter (ADC) with a low noise Programmable Gain Amplifier (PGA). At 64 kilo-samples per second (ksps) it is designed for precision measurements of AC and DC signals. It is designed to provide a wide dynamic range for flexible high performance architectures.
The Maxim Integrated MAX11216 Analog to Digital Converter, available from Mouser Electronics, is a single channel ADC that supports both differential and single-ended inputs. The MAX11216 has an integrated programmable gain amplifier that provides gain settings in six steps between 1x to 128x. Optional buffers provide isolation of input signal from the internal switched capacitor sampling network, allowing easy interfacing to high-impedance sources without compromising available dynamic range. The ADC provides excellent signal?to?noise ratio while dissipating very little power. Sample rates of up to 64ksps allow both precision DC and AC signal measurements for instrumentation applications. The MAX11216 can operate from either a single 2.7V to 3.6V analog supply, or split ±1.8V analog supplies, allowing the analog input to be sampled below ground.
The MAX11216 communicates digital data over an SPI interface that also supports QSPI™ and Microwire®. The digital output of this serial interface, DOUT, has a programmable driver output which saves board space by reducing external components. Many features of the MAX11216 are read or set by this serial interface, including DOUT output driver strength, power down modes, reset status, and power up status, as well as the conversion result.
Target applications for the MAX11216 include integration into sensor nodes, medical equipment, and data acquisition equipment.
With its broad product line and unsurpassed customer service, Mouser caters to design engineers and buyers by delivering What's Next in advanced technologies. Mouser offers customers 20 global support locations and the latest, most technologically advanced components for their newest design projects. Mouser Electronics' website is updated daily and searches more than 10 million products to locate over 4 million orderable part numbers available for easy online purchase. Mouser.com also houses an industry-first interactive catalog, data sheets, supplier-specific reference designs, application notes, technical design information, and engineering tools.
About Mouser Electronics
Mouser Electronics, a subsidiary of TTI, Inc., is part of Warren Buffett's Berkshire Hathaway family of companies. Mouser is an award-winning authorized semiconductor and electronic component distributor, focused on the rapid introduction of new products and technologies to electronic design engineers and buyers. Mouser.com features more than 4 million products online from more than 500 manufacturers. Mouser publishes multiple catalogs per year providing designers with up-to-date data on the components now available for the next generation of electronic devices. Mouser ships globally to over 500,000 customers in 170 countries from its 492,000 sq. ft. state-of-the-art facility south of Dallas, Texas.
SUBSCRIPTION CENTER - Mouser's Newest Products and Application News. STAY CONNECTED. Subscribe NOW.
See the Newest Products First
Gain Insights on Applications and Technologies
Customize your Preferences and Interests