Microsemi SmartFusion2 SoC FPGAs
Featured Product from Mouser Electronics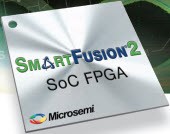 Microsemi SmartFusion2 SoC FPGAs address advanced requirements for security, high reliability and low power. These next-generation FPGAs are critical for industrial, military, aviation, communications and medical applications. They integrate a reliable flash-based FPGA fabric, 166MHz ARM® Cortex®-M3 Microcontroller subsystem and advanced security processing accelerators. A single chip has up to 240DSP blocks, 5Mbit of embedded SRAM, certified PCIe Gen2 endpoints, eNVM flash memory and high-performance communication interfaces.
Features:
SEU immune zero FIT flash FPGA configuration cells
SEU Protected Memories: eSRAMs, DDR Bridges (MSS, MDDR, FDDR), Instruction Cache, Ethernet, CAN and USB Buffers, PCIe, MMUART and SPI FIFOs
Hard 667mbps DDR2/3 controllers with SECDED (aka ECC or EDAC) protection
Industry's lowest static power 7mW during operation on the 50K LUT device
2mW standby power in Flash*Freeze real-time low power state
ARM Cortex-M3 low power modes
SoC peripheral low power modes
Leadership in Low Power FPGAs
10X lower static power with same performance
50% Lower Total Power
Leadership in Secure FPGAs
State of the art security enables root-of-trust applications
Radically transforms the usefulness of FPGAs in security applications
About Mouser Electronics
Mouser Electronics, a subsidiary of TTI, Inc., is part of Warren Buffett's Berkshire Hathaway family of companies. Mouser is an award-winning authorized semiconductor and electronic component distributor, focused on the rapid introduction of new products and technologies to electronic design engineers and buyers. Mouser.com features more than 4 million products online from more than 500 manufacturers. Mouser publishes multiple catalogs per year providing designers with up-to-date data on the components now available for the next generation of electronic devices. Mouser ships globally to over 400,000 customers in 170 countries from its 492,000 sq. ft. state-of-the-art facility south of Dallas, Texas.
SUBSCRIPTION CENTER - Mouser's Newest Products and Application News. STAY CONNECTED. Subscribe NOW.
See the Newest Products First
Gain Insights on Applications and Technologies
Customize your Preferences and Interests