Mouser Stocks Semtech RClamp0524PA TVS Array
Featured Product from Mouser Electronics, Inc.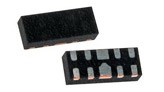 Semtech RClamp0524PA RailClamp® TVS Array protects sensitive components connected to high-speed data and transmission lines from overvoltage generated by ESD, CDE, or EFT. The TVS array generates a typical capacitance of only 0.3pF between I/O pins. This allows circuit operations in excess of 3GHz to be used without significant signal attenuation.