Multi-Die Emitter for High Bay & Outdoor Lighting.
Featured Product from Mouser Electronics, Inc.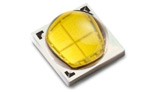 Lumileds LUXEON MX LED Emitter is a high-power, multi-die emitter enabling cost-effective, high-reliability fixtures for High Bay and Outdoor applications. LUXEON MX LEDs boast up to 150lm/W efficacy in a 12V configuration to produce up to 1200 lumen at 85°C. LUXEON MX LEDs are optically compatible with the LUXEON M Series.