New Freescale i.MX 6SoloX Processor Now at Mouser
Featured Product from Mouser Electronics, Inc.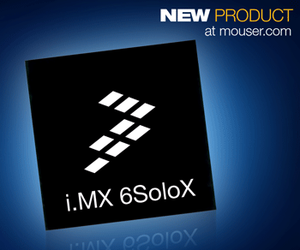 Mouser Electronics, Inc. the global authorized distributor with the newest semiconductors and electronic components, is now shipping the new i.MX 6SoloX Processors from Freescale Semiconductor. The i.MX 6SoloX puts a high performance ARM® Cortex?A9 core and a Cortex?M4 core on one chip. This processor is a highly integrated multi?market applications processor with support for graphics, USB, digital cameras, Gigabit Ethernet, and more.
The new Freescale® i.MX 6SoloX Processors, available from Mouser Electronics, includes two powerful cores on one chip. An ARM Cortex?A9 supports speeds from 800MHz to 1GHz and can run sophisticated operating systems like Linux. A 200MHz Cortex?M4 with floating point unit is optimized for real-time control and can run a real-time operating system (RTOS) for more deterministic behavior. An easy to configure power management system allows the multimedia features and system peripherals to consume minimum power while in either active, or low power modes. Multimedia performance for the Cortex?A9 is enhanced by an ARM NEON™ Media processor Engine (MPE) with 32 64?bit registers and 32 double-precision VFPv3 floating point registers.
The processor supports connections to a variety of interfaces. Video supports is provided by an analog video input interface that supports both NTSC and PAL. A number of USB interfaces are provided including high-speed USB on-the-go with PHY, High-Speed (HS) USB host with PHY, and HS Inter-Chip USB. Multiple expansion card ports are provided including MMC/SDIO host. Other ports include two Gigabit Ethernet controllers that support Ethernet AVB, a PCIe 2.0 interface, two 12-bit ADC modules with 4 dedicated single-ended inputs, two CAN ports, an ESAI audio interface, and a variety of other popular interfaces such as UART, I2C, SPI, and I2S serial audio interfaces.
Expansion is provided with a 32-bit DDR3/LVDDR3/LPDDR2-800 memory interface with additional support for NAND Flash, NOR Flash, and OneNAND™. Other interfaces are available for connecting peripherals such as WLAN, Bluetooth™, GPS, displays, and camera sensors.
The Freescale i.MX 6SoloX processor targets many applications including Internet of Things, industrial automation, wearable medical devices, test and measurement equipment, and vehicle?to?vehicle communications.
With its broad product line and unsurpassed customer service, Mouser caters to design engineers and buyers by delivering What's Next in advanced technologies. Mouser offers customers 20 global support locations and the latest, most technologically advanced components for their newest design projects. Mouser Electronics' website is updated daily and searches more than 10 million products to locate over 4 million orderable part numbers available for easy online purchase. Mouser.com also houses an industry-first interactive catalog, data sheets, supplier-specific reference designs, application notes, technical design information, and engineering tools.
About Mouser Electronics
Mouser Electronics, a subsidiary of TTI, Inc., is part of Warren Buffett's Berkshire Hathaway family of companies. Mouser is an award-winning authorized semiconductor and electronic component distributor, focused on the rapid introduction of new products and technologies to electronic design engineers and buyers. Mouser.com features more than 4 million products online from more than 500 manufacturers. Mouser publishes multiple catalogs per year providing designers with up-to-date data on the components now available for the next generation of electronic devices. Mouser ships globally to over 400,000 customers in 170 countries from its 492,000 sq. ft. state-of-the-art facility south of Dallas, Texas.
SUBSCRIPTION CENTER - Mouser's Newest Products and Application News. STAY CONNECTED. Subscribe NOW.
See the Newest Products First
Gain Insights on Applications and Technologies
Customize your Preferences and Interests